Try again. Fail again. Fail better.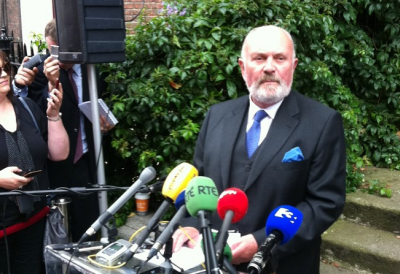 Below is the statement made by David Norris outside his home marking the end of his campaign for the presidency. His decision follows the revelation that David Norris sought clemency from an Israeli court for his former partner Ezra Nawi who was convicted by an Israeli court of the statutory rape of a 15 year old boy. David Norris advocated on Ezra Nawi's behalf in 1997 in his official capacity as an Irish Senator.
Firstly, let me say that I am overwhelmed by the good wishes I have received from the four corners of Ireland.
I would like to offer my grateful thanks and appreciation to all of my team which was composed of over 300 volunteers from across this country.
I would like to say that I respect and understand the decisions taken by the team and this has not in any way altered my appreciation for their contribution to the campaign.
Video via Newstalk 106 - 108fm
I deeply regret the most recent of all the controversies concerning my former partner of twenty five years ago, Ezra Nawi.
The fallout from his disgraceful behaviour has now spread to me and is in danger of contaminating others close to me both in my political and personal life. It is essential that I act decisively now to halt this negative process.
I do not regret supporting and seeking clemency for a friend, but I do regret giving the impression that I did not have sufficient compassion for the victim of Ezra's crime.
I accept that more than a decade and a half later when I have now reviewed the issue, and am not emotionally involved, when I am not afraid that Ezra might take his own life, I see that I was wrong.
He served his time and never offended again.
Yes, his actions were terrible but my motivation to write the letter was out of love and concern.
I was eager to support someone who had been very important in my life.
I have been involved in many campaigns and have written many hundreds of letters on behalf of people in every Continent – persecuted Tibetan monks, East Timorese, death row prisoners in the US.
As a Senator I have always been an active and vibrant voice for those vulnerable and marginalised in society. So it is very sad that in trying to help a person I loved dearly I made a human error.
Finally I would like to give my thanks to you, the Irish people. Thank you for your support and helping me in the times that I have succeeded and in times of difficulty.
So here I am today outside my home where all my great journeys have begun to announce the end of my presidential campaign. This has been a most wonderful experience despite the trauma and energy expended.
I have had the opportunity to visit every corner of this great country of ours and to bear witness to the wonderful work done by the Irish people in difficult circumstances.
I believe that I can point to two significant achievements as a result of my entry into the race. Whatever doubt there may have been about the holding of an election was ended by my determined candidacy. The presidency of Ireland belongs to the people and not any party or sectional interest.
Secondly, this process has thrown up issues that make it clear that the whole question of the way in which candidates are nominated must be examined urgently by the government, a commitment given by all the parties in 1998 but never acted upon.
I have also demonstrated that it is now possible for a gay person to be seen as a viable candidate for the highest office in the land.
I would have loved to have had the opportunity as president of Ireland to extend that to the service of the entire people but that is no longer possible.
The election is now entering a new phase of reality and I hope that it will be conducted in a way that is dignified and respectful of the office of President and of the remaining candidates.
At the beginning of my campaign I pledged that I would fight exclusively on what I saw as my strengths and what I could contribute to the welfare of the Irish people. I believe that I have done so with the dignity and decorum that would be rightly expected of any presidential candidate.
It has always been a principle of mine not to yield control of my life or my principles to others.
The recent frenzy threatened to erode that principle and it is now time for me to reassert as far as possible control of my life and destiny.
As I came across the Samuel Beckett bridge today into my mind came his words about humanity and frailty:
"Ever tried. Ever failed. No matter. Try Again. Fail again. Fail better".
Image above via @oconnellhugh on Twitter.