Tributes paid to Brian Lenihan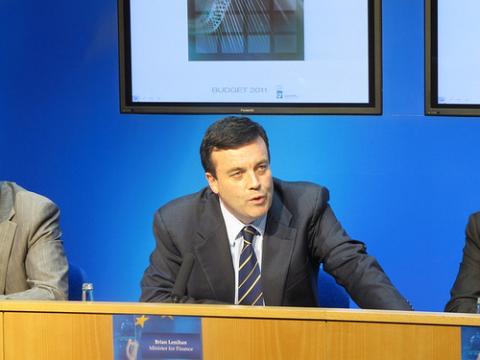 Former Finance Minister and deputy leader of Fianna Fail Brian Lenihan passed away this morning at the age of 52. The Fianna Fáil TD had been battling pancreatic cancer for some time. Mr Lenihan was first elected to Dáil Eireann in the Dublin West by-election of April 1996, caused by the death of his father Brian Lenihan Senior. He retained the seat in the general election the following year. In the 2011 general election he was the only member of Fianna Fáil to win a seat in Dublin. A barrister by profession, he served briefly as Minister for Justice, Equality and Law Reform before being promoted to the position of Finance Minister when Brian Cowen succeeded Bertie Ahern as Taoiseach in May 2008. His tenure in the Finance portfolio was to be one of the most controversial in the history of the State.
Below Micheál Martin, Bertie Ahern, Enda Kenny, Eamon Gilmore and Brian Cowen pay tribute to Mr Lenihan.
Statement by Fianna Fáil leader Micheál Martin following the death of Brian Lenihan
I am deeply saddened by the passing of my colleague and friend Brian Lenihan.
Brian has fought a brave and courageous battle with a serious illness over the past eighteen months.
In all of this time, Brian never once flinched from his public duties and he showed an unceasing and untiring commitment to tackling the economic crisis facing this country.
Even when receiving debilitating treatment, Brian continued to work assiduously in the best interests of this country.  For Brian Lenihan, that was always paramount.
Brian's commitment in doing his utmost for the Irish people defines modern patriotism and all that is laudable in our politics.  His loss to Irish public life is immense.
Brian Lenihan was undoubtedly an outstanding public representative of this generation.
He had an unrivalled combination of skills and an unstinting work ethic which he generously put at the full disposal of the Irish people.
He had a formidable intellect and was a gifted communicator.
He was full to the brim of ideas and he had a great grasp of policy.
He was an intellectual powerhouse, but he wore his learning lightly.
He was one of the best read people I ever met and though he was a first-rate academic, he had the common touch.
He was witty, he was good humoured and he was full of fun.
He was engaging, he had charisma and he loved meeting people.
As a ministerial colleague, I observed him at close quarters.  He had my complete admiration.
He was, quite simply, brilliant and often in a league of his own.
He was a solutions-based politician, with a sharp and incisive mind, and an uncanny ability to get things done.
He served first as Minister of State for Children where it was my pleasure to work closely with him as the then Minister for Health and Children.  Brian was a conscientious and compassionate Children's Minister and he brought forward a number of fresh and valuable policies relating to child protection, childcare and youth justice.
In June 2007, Brian Lenihan was appointed Minister for Justice, Equality and Law Reform.  In this Department, he was a reforming and innovative minister with political and legal mastery of his portfolio.  He was particularly focused on putting the rights of victims of crime centre stage.
Brian Lenihan's time in Justice was relatively short and, in May 2008, he was appointed Minister for Finance.
He was in this key economic portfolio when the worst financial crisis to ever hit independent Ireland emerged.
Brian Lenihan faced events at a scale and a pace of magnitude that no other Irish Minister has ever previously had to contend.
He rose to this unprecedented challenge and he never complained.
His performance characterised grace under pressure.
He was tested – and tested hard – but he played a stellar role in meeting the fiscal crisis head-on.
When Ireland was in the eye of the storm, Brian Lenihan never faltered.
Day-in, day-out he continued to step up to the plate and he did not shirk his responsibilities.
He was tenacious and he never gave up.
He did his utmost to communicate with clarity the hugely difficult predicament the country found itself in.
In a hugely volatile and rapidly evolving political and economic climate, Brian Lenihan was always cool and clear-headed in his decision making.
He was willing to take unpopular choices if he believed these were necessary and in the country's best long-term interests.
His unyielding determination to do his duty – in spite of a serious illness – was remarkable and inspirational.  It was truly a profile in courage.
Brian Lenihan did an outstanding job in extraordinarily difficult circumstances.
Brian's untimely death robs this country of a hugely talented politician and someone who had so much more to give.
But the greatest loss today belongs to Brian's family.
I wish to extend my deepest sympathies to Brian's wife Patricia, his son Tom, his daughter Claire, his mum Mrs Ann Lenihan, his brothers, Conor, Niall and Paul, his sister Anita, his aunt Mary O'Rourke, his extended family and many, many friends.
Brian Lenihan will be remembered with affection, gratitude and enduring respect by the Irish people.
Ar dheis de go raibh a anam.
Statement by former Taoiseach Bertie Ahern
I am very sorry to learn of the passing of Brian Lenihan TD.
He was a politician of outstanding capabilities and compassion who was colourful and extraordinarily clever.
He did immense work on behalf of the people of this country as a minister and his loss is a huge one for Irish politics.
I worked closely with Brian from his election to the Dáil in 1996.
We came from neighbouring constituencies and I can still remember the commitment shown by Brian's supporters in Dublin West and my own canvassers in Dublin Central during Brian's successful by-election in 1996.
Brian Lenihan had worked as a lawyer before he entered politics and he used those skills to the full as a very competent Chairman of the All-Party Oireachtas Committee on the Constitution.
It was my pleasure to appoint Brian as Minister of State for Children and he made a huge impact in that job so much so that I raised his portfolio to the cabinet table.
After the election in 2007, I appointed Brian Lenihan as Minister for Justice, Equality and Law Reform.  His combination of legal and political skills saw him once again do a great job.
In more recent times, Brian served as Minister for Finance.  He had to contend with huge difficulties but he was equal to the challenge and did a very fine job.
He showed great courage and fortitude in dealing with his illness and he was a man of decency and integrity.  
He will be sadly missed.  I wish to extend my sympathies to his wife Patricia and his children Tom and Clare and to his extended family.
May he rest in peace.
Statement by An Taoiseach Enda Kenny
I was deeply saddened to learn of the untimely death of Deputy Brian Lenihan.
Throughout his political career, Brian Lenihan displayed huge commitment to public service and carried out his responsibilities with integrity and compassion.
During his illness, which he fought with serenity, he courageously continued to fully perform his ministerial responsibilities in the most challenging and difficult circumstances.
To his mother Anne, wife Patricia, children Tom and Clare, brothers Paul, Niall and Conor, sister Anita, and to his colleagues in the Fianna Fail Party, I extend my deepest sympathy.
Statement by Labour Party leader and Tánaiste Eamon Gilmore
It was with great sadness that I learned today of the death of Brian Lenihan. 
Brian was somebody for whom I had tremendous regard, and at a personal level I always found him to be warm, good humoured and convivial. 
Brian was a politician of conviction, and as a member of the Dail was a strong believer in serving the people who put him there first and foremost. I was full of admiration for his decision to run in the February election despite the fact that he was battling serious illness, and was heartened to see him in Leinster House recently. 
He was a man of outstanding intellect and always endeavoured to bring that intellect to bear on the many complex issues that he had to deal with as a public representative and as a member of Government. His reputation for working hard in public life was one that was fully deserved. 
As a Minister, he went out of his way to make himself accessible and available, not just to his party colleagues, but also to all members of the Dail. 
My sincere sympathies go to Patricia, his two children, his extended family; and all his friends and supporters. 
Ar Dheis Dé go rabh a anam.
Statement by former Taoiseach Brian Cowen
I was very sorry to hear the sad news this morning of Brian Lenihan's passing.
I wish to extend my sympathies to his family and friends and especially to his wife Patricia, his son Tom, his daughter Claire, his mother, Mrs Anne Lenihan, his brothers, Paul, Niall and Conor, his sister Anita, and his aunt Mary O'Rourke and other family members.  
Brian Lenihan was a good colleague and friend of mine for many years.  
I knew him to be a man of ability and intelligence who was totally committed to public service.  
We served together in the Dáil, in the Fianna Fáil Parliamentary Party and the Government for many years.  
I worked closely with him especially in the period I was Taoiseach and Brian was Minister for Finance.
He sought to serve the best interests of this country at all time.  
At the Cabinet table, I saw at first-hand how hard he worked and how committed he was to doing his utmost for Ireland.  
He made an immense contribution to dealing with the problems the country has faced and I believe that this will be appreciated all the more in time.  
His commitment and application to his duties never faltered at any time.
He had political courage but he also had huge personal fortitude as well particularly during the period of his recent illness.  
He will be remembered fondly, with great affection and with respect by all who knew him.  His passing is a great loss to our country and also, of course, to the Fianna Fáil Party.
Image top: Merrionstreet.ie.