TDs voice support for Fianna Fail leadership contenders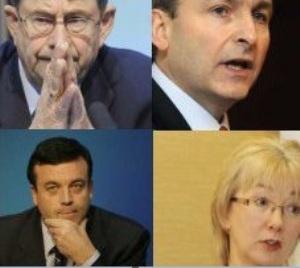 Fianna Fail TDs who publicly support candidates for the party leadership outlined this morning the reasons behind their choice. They were speaking on the Today with Pat Kenny programme on RTE Radio One. A new party leader will be elected from the four candidates on Wednesday afternoon. 
The four contenders for the Fianna Fail leadership, Mary Hanafin, Brian Lenihan, Michael Martin and Eamon O' Cuiv have been lobbying party TDs, but the favourite to succeed is Michael Martin. So who's backing whom?
Pat Carey TD who proposed Mary Hanafin's nomination (seconded by Máire Hoctor) told Pat Kenny: "I have known her since 1985 when we were elected to Dublin City Council together. Her family are steeped in the party." 
Mr Carey spoke about her political career highlighting that she established the Office of Ombudsman for Children during her tenure as Minister for Children; she has also served as Minister for Social & Family Affairs, and as Minister for Arts, Sports & Tourism she has "put tourism on the economic agenda", he said.
The Dublin North West TD described Ms Hanafin as "energetic" and "vibrant". He acknowledged that she faces difficulties in the upcoming election. "Like all of us she has to fight very hard to retain her seat in Dun Laoghaire. I believe she will," he said.  Re-election is an acute problem in Dun Laoghaire - in many ways it is a microcosm of the general election. It is moving from a five to a four-seat constituency and there are many strong contenders such as Eamon Gilmore, Seán Barrett, and Richard Boyd-Barrett. As well as this, Ms Hanafin's fellow party member Barry Andrews is also seeking re-election in the constituency. Mr Andrews has declared his support for Micheál Martin in the leadership contest. 
Some argue that Mary Hanafin's standing is more about saving the seat in Dun Laoghaire than seeking the party leadership. It is also rumoured that she struck a deal with Micheál Martin to become deputy leader should he win the contest.
Willi O'Dea at first took a diplomatic approach to the leadership question, saying: "We're spoilt for choice. I wouldn't lie awake if any one of them won. Any one of them would be a good leader of FF."  
He then went on to outline his reasons for supporting Micheál Martin. 
"We're trying to elect a new leader to revive the fortunes of the party. The overwhelming response on the doorstep is that he's the leader to take the party forward and revive the party's fortunes. If you want somebody of courage and integrity, the events of the last week should dispel any worries about courage.
Speaking about Brian Cowen the Limerick TD said. "The problem was he wasn't connecting with the public. I took the view that we had to take a gamble. It mightn't change anything. But then again it might."
"I think [Micheal Martin is] an outstanding communicator," O'Dea added. "I have most confidence in him to leave no stone unturned to revive the party." 
Tipperary South's Martin Mansergh put forward the case for Brian Lenihan. "I have great regard for all four candidates. Before we think about talk about rebuilding the party, we first of all have to fight a general election. The debate will focus on economic issues. I think we need intellectual firepower, and Brian Lenihan has that."
Brian Lenihan is the person who the opposition will fear most, according to Martin Mansergh. Mansergh said: "I think Brian Lenihan is on top of his brief. Who would Enda Kenny and Eamon Gilmore least like debate against? I think it would be Brian Lenihan." Mansergh went on to describe Brian Lenihan's debating abilities as "formidable", adding that he has a "unique command" of economic issues.
Mansergh also said there is "a serious argument for a Dublin leader". "If you look at the history of the party, the leadership has alternated between the country and Dublin," he said. He highlighted that just five out of 22 Dublin TDs have declared for Michael Martin - Barry Andrews, Chris Andrews, Seán Ardagh, Noel Ahern, and Seán Haughey.
Mr Mansergh also highlighted the fact that Brian Lenihan was not a member of Cabinet during the Celtic Tiger but had been involved "in keeping the country upright" since the collapse. Willie O'Dea didn't accept that Brian Lenihan should be elected on the basis that he joined Cabinet relatively recently.
Michael Kitt suggested Eamon O'Cuiv would bring balance to the party saying, "He's a native of Dublin but living in Galway and has a good mix of city living and country living". He said O' Cuiv is a man of great integrity and that he is known for it around the country and internationally.
Mansergh agreed that he has been very strong on community initiatives. "He's a very good debater and he's shown that in the Dail and on Radio na Gaeltachta and TG4," Mr Kitt continued. "He's a safe pair of hands."
Mr Kitt, who seconded O'Cuiv's nomination, commended his work on developing the Western Corridor, his introduction of schemes in employment such as the Rural Social Scheme when it transferred across to O' Cuiv's department, the Department of Social Protection, last autumn. "If he can get EU money to back a project he'll back it strongly. But if he fails to get funding he'll find it elsewhere, particulary for community projects, like co-operatives", Mr Kitt said.
Candidates are due to address the parliamentary party this evening ahead of tomorrow's vote. Tomorrow's meeting of the parliamentary party will see the candidates proposed and seconded, before the vote is taken in a secret ballot. At least 17 of the TDs entitled to vote will not stand in the upcoming election.
Additional reporting by Christina Finn and Alison Spillane.
Image by NewsWhip.ie