Smithfield Horse Fair faces possible injunction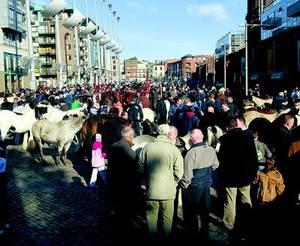 Sandy Hazel reports on the meeting of Dublin City Council on Monday 7 March following the Smithfield Horse Fair. 
An emergency motion on Smithfield Horse Fair at last Monday's Dublin City Council (DCC) meeting called on the incoming Government to remove the legal rights and the suspension of the horse fair at Smithfield in Dublin. Councillors acknowledged the historical integrity of the event: that the square had grown around the fair, but agreed it has become an unsuitable location. Other councillors pointed out that moving the location will not necessarily improve the welfare of the animals and that the slash hooking and shooting incidents of last weekend would have occurred regardless of the fair.
That other violent incidents and murders in Dublin cause little outcry is noted by councillors, as was a riot at Lansdowne rugby stadium "which did not require it to shut its doors". Animal welfare, elements of criminality and overcrowding are the main objections to the horse fair and it was recommended that the new attorney general be asked this week to deal with the situation as an emergency. An injunction may be sought to stop the fair taking place until new legislation or relocation happens.
The fair has been removed from the Dublin Tourism websites. John Gilligan's Jessbrook Equestrian Centre is suggested by Cllr Deirdre Heaney as an alternative venue. "It is currently being maintained by OPW at the public's expense," said Heaney.
TBCT under review
The future of the Temple Bar Cultural Trust will be discussed after the city manager John Tierney delivers a report on the organisation and its assets in June. Dublin City Council was called on by Cllr Mannix Flynn to confirm DCCs role with the trust, its assets, annual budget, administration, value for money and productivity. Cllr Flynn, calling for a review of the trust's remit, said that the organisation had assets of €50 million and that it garners millions in rents from DCC properties so concerns that the trust sees itself "as a private company" should be looked at.
Lord Mayor Gerry Breen agreed that good corporate governance by DCC subsidiaries should be adhered to and that this included DCC putting new people on the board. "In other companies there is a roll over mechanism for board members and it should be good practice to do that," said Cllr Breen.
City manager Tierney, as the single shareholder of the trust, agreed to report back in June with a review of operations before making any changes.