The real bullies are in politics - and in power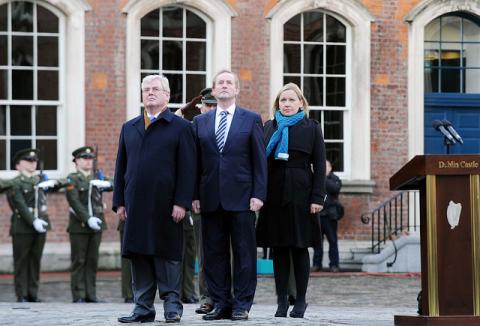 There is little prospect of this wretched government losing office in 2013, but there is quite a prospect of defections, humiliations and betrayals, starting with abortion. By Vincent Browne.
Fine Gael's indifference to the promises it, and its leader, made on abortion is matched by its indifference to integrity.
That the promises made were ignorant and silly is immaterial.
That it should now insist that every one of its TDs and senators comply with its insistence on breaking those promises almost matches the cynicism of Eamon Gilmore and Pat Rabbitte in characterising Labour TDs and senators who break Labour election promises as "courageous".
The dishonour does not end with abortion.
Is there a person among the phalanx of Fine Gael and Labour TDs and senators who thinks it is right that their spouse - or sister or daughter or close women friends - should be required, under pain of criminal sanction, to bring to full term an unborn baby who has no prospect of survival outside the womb?
Or when a termination of the pregnancy is necessary to avoid the woman's health being seriously impaired for the rest of her life, or even when there is a risk of this?
And yet they will seek to reinforce (or at least retain) the law that so ordains.
Is it remotely likely that all of them believe that the termination of the pregnancy of their spouse - or daughter, or sister or close women friends - is always wrong when the woman's lifetime health is going to be seriously impaired by the pregnancy, and that the woman should have no choice in the matter?
Yet few of these are likely to speak up, lest the wrath of the pro-lifers be incurred.
Wasn't it a masterstroke for those who want to deprive women of a decision on whether their bodies should be used for the propagation of another being to patent the appellation "pro-life"?
And a further masterstroke to pin the appellation "pro-abortion" on those who abhor abortion but feel that they and the state have no entitlement to overrule the autonomous decision of the women concerned?
There will be further trauma for this government and its fellow-travellers when the household tax comes into being.
Of course, those of us who can afford to do so should pay more - considerably more - to the public purse, whether by way of income tax, wealth tax or property tax, or by all these means cumulatively. That is not an issue.
What is an issue is that those impoverished by the dysfunctional economic and social system the government parties so heartily endorse, should be further impoverished by the property tax.
That is a measure too far, and one which those affected are unlikely to suffer without revolt.
The accumulation of budgetary measures, targeted at those who the Government protests it seeks most to protect, are likely to inspire revolt too: the devastation of disadvantaged communities, the assault on poor families by curtailments in job-seekers' allowances, cuts in child benefit affecting particularly larger and poorer families, the increased costs of medicines, all the insidious little measures devised as though there were a coherent strategy to afflict the afflicted.
This, of course, is not so: coherence is not an attribute fairly pinned on this cabal.
The bank debt will feature a lot in 2013, and if - as seems most likely - the sustained programme of sycophancy results either in a derisory amelioration (for instance a prolongation of the promissory note repayment, and/or in the fire sale of the Government's stake in what are laughingly known as the "pillar banks") or nothing at all, then just more humiliation for this lot.
But they seem not to notice humiliation.
There is, for them, the welcome distraction of the EU presidency in the first half of 2013, affording opportunities for strutting and even more photo opportunities with important people.
The significance, if any, of the rotating EU presidency for the rotated member states is not at all clear, since one of the saving graces of the Lisbon Treaty was the establishment of a permanent EU presidency, based in Brussels, now with the forbidding Herman Van Rompuy as the permanent president.
But the distraction will comfort the cabal.
The death by suicide of Shane McEntee must have been shattering for his parliamentary colleagues, as well as his family and close friends, of course.
Even those of us who never knew him or met him were shocked by the event. Certainly there is a new cruelty disseminated via social media, which, for those who leave themselves exposed to it, can be very hurtful.
Whether it was that this robust and capable man was so utterly shattered by what had been said about him on Facebook and Twitter that he felt unable to go on, we may never know.
Bullying is prevalent in public life, but it seems to me that the real bullies are those who threaten public representatives with consequences to their careers should they comply with their election promises or with their consciences on what are genuinely issues of conscience.
Those who, by inference, suggest that those who comply with those promises and consciences are lacking in courage and integrity are also the real bullies.
Happy 2013.
Image top (Eamon Gilmore, Enda Kenny and Lucinda Creighton at a ceremony in Dublin Castle on 31 December to mark the beginning of Ireland's seventh Presidency of the Council of the EU): Fine Gael.