Online polls show fall off in support for Gallagher

The last major opinion poll - the Irish Times/Ipsos MRBI poll - was published on Monday and showed Seán Gallagher with a strong lead. However, three online polls conducted after the final presidential debate tell a quite different story.
In the Politico poll, which was open for votes from Tuesday morning to early Wednesday, Gallagher placed fourth with just 8% of the vote.
Martin McGuinness topped the poll, with 42% of the vote. Michael D. Higgins came in second at 30%.
Irish emigrants canvassed by Ballotbox.ie over six days declared Higgins their favoured candidate. David Norris came in second, at 24%, and Martin McGuinness third, at 18%. Gallagher finished fourth.  According to Brian Reynolds and Joe McCarthy of Ballotbox.ie, the swing in the vote for Gallagher between the first three days of the poll and the second three was -1.5%. They say that the majority of votes in the latter half of the election came after the Frontline and Newstalk debates on Monday.
Higgins, Norris and McGuinness also made up the top three in an Irish Times Facebook poll carried out after Monday's debate. Higgins topped the poll with 48% of the vote, McGuinness was second with 15.2% and Norris came third with 14.8%. Gallagher wasn't far behind, in fourth, with 14.5% of the vote.
All three polls were conducted with relatively small and rather skewed samples (see details below). However, the contrast between these results and the final Irish Times/Ipsos MRBI poll cannot be discounted. Indeed, they may indicate that the "remarkable shift in public opinion" - that Monday's Irish Times editorial averred would be the only thing to keep Gallagher out of the Áras - has taken place.
That Ipsos/MRBI poll, published early on Monday, had Gallagher topping the poll and well ahead of Higgins (40% vs 25%). Gallagher's response to questions about the lodgement of business funds in his account, and his alleged messengering of a Fianna Fáil donation in 2008 in the Frontline debate have clearly done him no favours. Whether the damage done to his campaign has been such that he will indeed fail in his attempt to become president remains to be seen.
The bookies certainly seem to think it has - the odds on Gallagher becoming the next president of Ireland lengthened notably between early Monday and late Tuesday: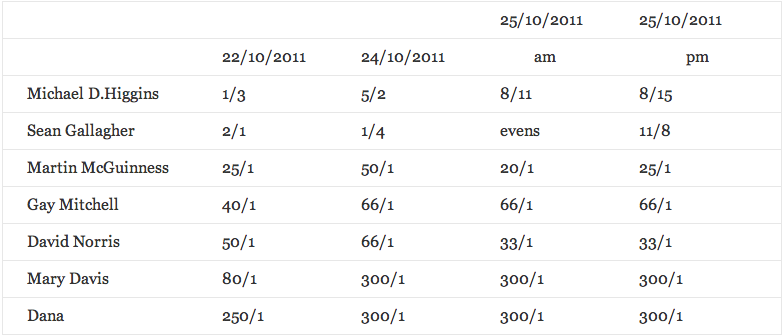 Odds via Paddy Power, details via Irishelection2011.com
Poll details 
The Ballotbox.ie poll was carried out over six days on www.ballotbox.ie. 2,581 Irish emigrants in 97 different countries voted in the poll. IP technology was used to block voters in Ireland, and passport information was used to discourage non-Irish people from voting.
The Irish Times Facebook poll was opened shortly after Monday's Frontline debate. It remains open today (Wednesday). Voting figures and percentages were noted at 3pm this afternoon. Altogether, 2,382 votes had been cast by this time.
Friday's Politico poll opened at lunchtime on Friday and closed early on Tuesday morning. Some 1,312 votes were cast (results here). Tuesday's poll ran from early Tuesday to early Wednesday and drew 1,259 votes (results here). Michael D. Higgins topped Politico's first poll having snatched the lead from Martin McGuinness in a late surge. Martin McGuinness topped Politico's second poll, with Michael D. in second place. It should be noted that Politico editors observed Sinn Féin social media accounts advertising both polls.
{jathumbnailoff}