Move to oust Cowen underway, say tweeters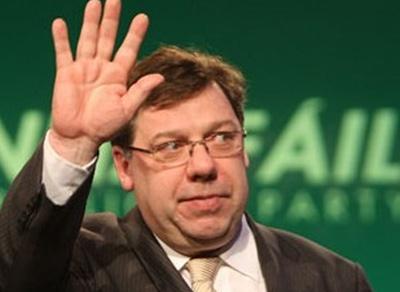 Around 11pm last night rumours of a Fianna Fáil heave against Brian Cowen began to appear on social networking site Twitter. By Alison Spillane
Journalist Brian O'Connell was the first to tweet about an apparent heave against the Taoiseach - possibly led by Michael Martin - taking place at Leinster House. He emphasised that this had not been confirmed but the rumours rapidly gained momentum and by the early hours of Thursday morning politicians were joining in the discussion.
At around 12.30am Fine Gael's Simon Coveney tweeted "Very strong rumours about unrest in FF and a potential motion of no confidence tomorrow - hard to know if it will happen or just speculation". Others were tweeting that Fianna Fáil had gathered the 18 names necessary for a no confidence motion in Taoiseach Brian Cowen.
There were suggestions that Newstalk's political correspondent Páraic Gallagher would have the full story in the morning. Politics.ie founder David Cochrane wrote, "Politics.ie understands that Newstalk is likely to report that Brian Lenihan and Micheal Martin have made some sort of agreement, with at least 20 Fianna Fail TDs expected to support a motion to have Cowen removed as leader."
A Fianna Fáil parliamentary party meeting is due to take place later on today (13 January).
At 1.15am the Irish Independent's Fiach Kelly tweeted the following: "Just left Leinster House. Let's all get a good night's sleep.....we're gonna need it. Looks like game on."
More to follow.
Update 07.35: Newstalk reporting that although speculation about the heave is growing, the Irish Independent says Micheal Martin, Brian Lenihan and backbenchers Thomas Byrne and Michael Mc Grath have all denied involvement. Speaking earlier on the programme, the paper's political correspondent Fionnan Sheahan said it appears likely a leadership challenge of some sort will take place but it is at present unclear what form this will take.
Following yesterday's revelations that Brian Cowen was joined in the bar at Druids Glen by Anglo director Garry McCann and Alan Gray, a director on the board of the Financial Regulator, after his 2008 golf game with Sean FitzPatrick and Fintan Drury, it appears the Taoiseach's position is more precarious than ever.
Last night Alan Gray issued a statement saying there was no discussion of Anglo Irish Bank at the event in Druids Glen.
08.15: Fianna Fail's Mary O'Rourke, also speaking on Newstalk, says she believes a move against Cowen would be "futile" and that it is too close to a general election for a change in leadership. Meath East TD Thomas Byrne has also contacted the radio station to say that he is not involved in a heave against the Taoiseach.
13.12: On the News at One Séan O'Rourke reports there is intense speculation that Cowen's position as leader of the parliamentary party is in jeopardy. Significantly, the meeting of the Fianna Fáil parliamentary party due to take place this morning was postponed until 3pm at the last minute.
13.29: According to Newstalk's Padraic Gallagher Mr Cowen has been asked to step down.
15.17 Newstalk understands Cowen is not going. He will apparently llisten to the concerns of TDs and Senators over the coming days but will not step down. If members of the party disagree they can table a motion of no confidence at next week's parliamentary party meeting.