Michael Martin calls for more leader debates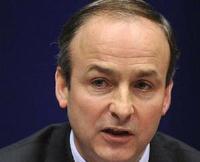 In his first press conference as leader of Fianna Fail, Michael Martin said he was "extremely proud" to be the new leader of the party.
Speaking to a packed room in the Gallagher gallery at the Royal Hibernian Academy, Michael Martin said "Ireland can and will come through this crisis".
Standing alone, the eighth leader of the party thanked his fellow contenders for a fair and "positive" leadership competition.
He pledged to work every day and said he was committing at least another 10 years to politics. He acknowledged his failings as a minister, saying "I am sorry for the mistakes I made as minister".  "We must learn the lessons of what we did wrong in recent years," he said.
Michael Martin said there were "systemic failings" and said there was a need for political and government reform.
"This will be the most important general election in our history," he said. Past elections he said were dominated by sound bites, personality and political tactics. There needs to be a "move away from business as usual." He said he had written to Eamon Gilmore and Enda Kenny to request two leaders' debates, one at the start of general campaign and one at the end. He also expressed his interest in holding one on one debates with other party leaders, as well as a debate in the Irish language that would be televised by TG4.
He admitted that Election 2011 will be the most challenging election Fianna Fail has ever faced. But he said that people should "make no mistake" that change cannot be made without "tackling the fiscal deficit and that is central to our programme".  He added that he wanted to "ensure a future for our people, particularly our young people". "Empty slogans of the left and the right will never deliver," he said.
He said that with the right policies Ireland can through this crisis, but that he is not expecting anything "overnight".
Mr Martin said he was not getting to get into business of predicting seats and percentages but said people would not be selected just because they are "friends", but that people would be selected on their "talent and ability".
Michael Martin is reported to have won the party leadership by substantial margin, with 33 votes in the first count. Eamon O' Cuiv came second with 15 votes, followed by Lenihan with 14 and finally Mary Hanafin with 10 votes.
Taoiseach Brian Cowen says Michael Martin has his "full support".