Martin to lead Fianna Fáil into Election 2011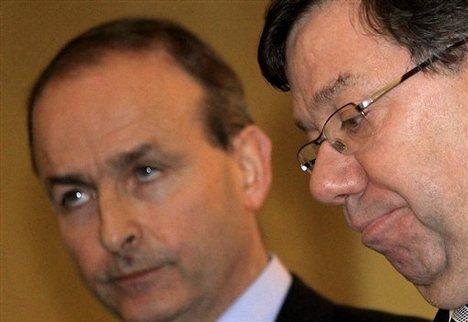 Micheál Martin was elected the eighth leader of Fianna Fáil this afternoon. The vote was conducted by secret ballot and took place at Leinster House.
At 3pm today Fianna Fáil broke the news via Twitter that Micheál Martin had won the leadership contest to become the eighth leader of the Republican Party, defeating Eamon O'Cuív, Brian Lenihan, and Mary Hanafin in the leadership contest.
Taoiseach and outgoing leader Brian Cowen was given a standing ovation when he addressed the parliamentary party this afternoon.
The parliamentary party meeting began at 2pm and voting got underway around 2.45pm. The system of voting used was proportional representation – Mr Martin needed at least 37 votes to win (half the party's TDs plus one). 72 TDs were eligible to vote following the readmission of Sligo-North Leitrim TD Jimmy Devins to the parliamentary party.
RTE gave unofficial estimates which said Mr Martin received 33 votes in the first count. It is reported that Eamon O'Cuiv polled second with 15 votes, followed by Brian Lenihan on 14 and Mary Hanafin in last place with 10 votes.
The question now is whether the Cork TD can improve the party's chances in the upcoming general election.
The most recent opinion poll put Fianna Fáil on 14% nationally; this is perhaps an optimistic assessment considering the events of the past few weeks.
The opinion poll, conducted in the first week of January, was carried out before the impact of the universal social charge, the cuts to social welfare and child benefit, and the profound disarray and self-obssession which has characterised the party over the past few weeks.
The Sunday Business Post will publish an opinion poll this weekend which should indicate how these events have affected public opinion.
The prominence of the leadership issue in recent weeks has also done the party damage. To many it appeared as though Fianna Fáil put party firmly before country by obssessing over its internal squabblings. A complete breakdown in party discipline saw various TDs take to the airwaves calling for their leader to resign.
Mr Martin was the frontrunner throughout the leadership contest, in advance of this afternoon's meeting he said he was confident he would succeed Brian Cowen as Uachtarán Fhianna Fáil.