Lenihan stayed too long in the long grass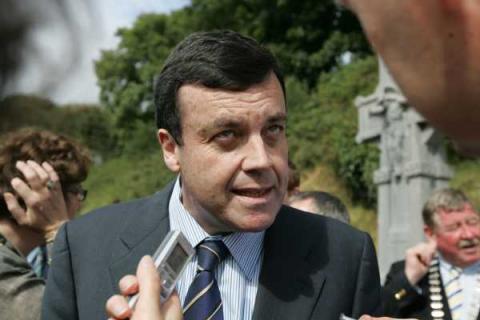 After an extraordinary week in Irish politics, the question of the Fianna Fáil leadership is finally resolved. Politico looks at one of the pretenders to the throne – Finance Minister Brian Lenihan – and assesses the Lenihan history within the party and how he scuppered his long-awaited shot at the party leadership.
Fianna Fáil is a party in such disarray it is a wonder anyone wants to lead it. But perhaps for Brian Lenihan, the party leadership was as much personal as it was political. The Lenihans are a family ingrained in Fianna Fail and have maintained loyalty to the party through the generations. But the party has not altogether reciprocated this loyalty. 
Brian Lenihan Senior was once described by former Taoiseach Charles J Haughey as "one of my closest personal friends, and certainly my closest political friend". And it is true that Charlie originally counted the charismatic Lenihan among his close allies. But a rift developed between the two in the 1970s. Following the leadership contest between Haughey and George Colley in 1979, Haughey considered leaving Lenihan out of his cabinet before eventually appointing him to the position of Minister for Foreign Affairs.
Then, in 1990, Brian Lenihan Snr was fired by his friend Haughey when controversy emerged over the 'Calls to the Áras' incident of 1982, when controversial phone calls were made to President Patrick Hillery by members of Fianna Fáil (then in Opposition). Lenihan Snr had attempted to dissuade the President from calling a general election.
'Calls to the Aras' followed the collapse of the Fine Gael/Labour coalition led by Garrett FitzGerald; FitzGerald went to the Park to ask President Hillery for a parliamentary dissolution. At the same time, senior opposition figures phoned Hillery asking him not to dissolve the Dáil. President Hillery granted FitzGerald's request.
In an interview given in May 1990, Lenihan confirmed he had made phonecalls to President Hillery in January 1982, and that Haughey too had contacted the President. He later changed his story and his election campaign team, led by Bertie Ahern,  tried to pressure the academic involved, Masters student Jim Duffy, not to reveal the information. (Lenihan was now running for the Presidency himself).
This strategy backfired and Fianna Fáil's coalition partner, the PDs, threatened to pull out of government unless Lenihan resigned. Despite publicly claiming he was putting no pressure on his close friend, Taoiseach Charles Haughey drew up a letter of resignation which Lenihan refused to sign. Haughey then went to the Áras and asked Hillery to dismiss Brian Lenihan Snr, which he duly did.
The Moriarty Tribunal would later establish that Haughey had misappropriated €250,000 from a fund set up to pay for Lenihan's liver transplant.
Lenihan Jr was first elected to Dáil Eireann in the 1996 Dublin West by-election, caused by his father's death.
When Fianna Fáil returned to power in 1997, Haughey's disciple, Bertie Ahern, proved the perfect student and kept the younger Brian languishing on the backbenches.
It is believed this animosity perhaps had its roots in Lenihan Snr's disastrous presidential campaign where Bertie Ahern was campaign manager and Brian Jnr a volunteer. Indeed, when Haughey sought his old friend's resignation he sent his protege Bertie to deliver the news.
Lenihan Jnr was one of the brightest members of the Dáil. Before entering politics he practiced as a barrister having achieved considerable academic success in his studies at Trinity, Cambridge, and King's Inns.
In 2002, six years after his election to Dáil Eireann, Lenihan was promoted to the relatively junior post of Minister for Children. After his third election, Bertie could no longer justify keeping him on the backbenches, reluctantly appointing him Minister for Justice & Law Reform in June 2007.
Lenihan tolerated this treatment, and that of his father, without much fuss, making a name for himself by appearing as a government representative on Prime Time, The Week In Politics etc.
A close ally of Brian Cowen, Lenihan was appointed Minister for Finance when the former took up the post of Taoiseach in May 2008. Faced with the most serious financial crisis in the history of the State, Lenihan presided over the widely-criticised bank guarantee of 28 September 2008 and has twice been named the worst Finance Minister in Europe by the Financial Times.
Despite his track record in the Department of Finance, when rumours began to circulate the week before last of a move to oust Cowen, Brian Lenihan's name came to the fore quickly as a potential successor.
The Lenihan machine clicked into gear. Brian's brother, Conor Lenihan became the most outspoken Fianna Fail TD in favour of a new party leader. Mary O'Rourke (a sister of Brian Senior) was ambivalent, refusing to endorse Brian Cowen's leadership. She recollected being berated in 2010 when she questioned the party leadership. Mary O'Rourke's son and Brian Lenihan's cousin, Aengus O'Rourke tweeted assuredly that Brian Cowen was in the Tap bar in Offaly and had confided in a "reliable source" that he was resigning on the Sunday. 
After years of quietly tolerating the self-serving insults of ruthless Fianna Fail party leaders, Brian Lenihan now seemed well poised to challenge for the leadership himself.  
No such resignation came however, and on Tuesday afternoon (18 January), Brian Lenihan announced his support of Taoiseach Brian Cowen in the confidence motion to be held that evening. In an interview with Seán O'Rourke, Mr Lenihan said he had not entertained the idea of leading Fianna Fáil. "I didn't have the luxury of indulging my ambitions on this particular matter, as far as I was concerned the country came first", he said. The Finance Minister added that Brian Cowen would lead Fianna Fáil into the general election as "a united team".
Yet there was a sense that Lenihan was merely biding his time to mount a challenge until after the general election. There was a strong chance that Micheal Martin, relatively isolated in opposition to Brian Cowen, would be damaged by his stance should Cowen survive the vote.  
Before Minister Lenihan made the announcement on RTE's News at One, Kildare South TD Seán Power commented, "I'd be very surprised and shocked if that happened [Lenihan supporting Cowen]. I along with colleages have spoken to Brian over a long period of time and the concerns that we expressed were very much shared by him." Mr Power has been an outspoken critic of Brian Cowen saying his time as party leader has been marked by "poor judgement, poor leadership, and very poor communication".
Carlow-Kilkenny TD John McGuinness was livid with Lenihan's public endorsment of Brian Cowen. Mr McGuinness told Seán O'Rourke: "What Brian Lenihan has been saying to you is not what he has been saying to the backbenchers over the last number of months and quite frankly I would imagine that all the backbenchers are shocked at what he had to say."
In the interview, Brian Lenihan attempted to distance himself somewhat from the toxic history of Fianna Fáil. "I'm a minister of three and a half, four years standing and what I have been doing is fighting to repair the mistakes that were made," said Lenihan. "And there has been a substantial amount of repair conducted."  He acknowledged that the party had been in government for the past 14 years and has to take responsibility for "its part in the current difficulties".
If the Finance Minister felt he could wrongfoot Micheál Martin by supporting the Taoiseach, his actions on Tuesday last backfired considerably as he garnered criticism from a number of party members. Ironically, Micheal Martin emerged stronger on Tuesday evening despite losing the motion of confidence vote.
Ordinary Fianna Fáil members too will have their doubts about Lenihan following John McGuinness' comments. McGuinness was adamant that Lenihan has expressed an interest in leading the party. He went as far as to say the Finance Minister had encouraged dissent and ecouraged backbenchers to "look at the numbers" (for a motion of no confidence).
It originally seemed like Lenihan was biding his time, aiming to make his leadership bid after the election and start afresh in opposition. However, the backlash from fellow TDs over his apparent doublespeak was damaging in the days that followed. Moreover, the 48 hours that followed the confidence vote were so calamitous for Brian Cowen that the situation changed rapidly. On Saturday, the Taoiseach had announced his resignation as leader of Fianna Fail and the contest for his replacement swiftly got underway.
Whether he had discussed the matter with John McGuinness and Sean Power or not it is clear Brian Lenihan has been harbouring leadership ambitions. On Sunday (23 January), he gave a press conference formally announcing his intention to contest the Fianna Fail leadership. It was a strong and frank performance from the Finance Minister who spoke openly about his health, political reform, and the need for Fianna Fail to present a strong opposition to a Fine Gael/Labour coalition among other issues.
The question then was whether Lenihan could garner enough support to win today's leadership contest, particularly after the disastrous News at One interview. As it turned out, a number of prominent TDs declared for him including his brother Conor and Tipperary South TD Martin Mansergh.
If Lenihan had the upper hand on Micheal Martin in any regard it is the fact that he is a relatively recent addition to Cabinet. As Martin Mansergh observed on Today with Pat Kenny on Tuesday morning: "He [Lenihan] was not a Cabinet member in the boom years. He has been involved in keeping the country upright."
Many outside Fianna Fail will take umbrage with the notion that any of Mr Lenihan's policies as Minister for Finance helped to keep the country upright but within the party he may be perceived by some as the person to break with Celtic Tiger Fianna Fail; the other three leadership contenders - Micheal Martin, Mary Hanafin, and Eamon O'Cuiv - all held senior ministerial positions for a number of years under Bertie Ahern.
At 3pm today however, it was announced that Micheal Martin had been elected the eighth leader of Fianna Fail. He had been the frontrunner for the leadership with 26 TDs publicly declaring their support for him. Mr Lenihan said on Monday that "considerable numbers" within the parliamentary party had privately pledged their support for him yet today he polled third receiving 14 first preferences after Martin (33) and Eamon O'Cuiv (15). Mary Hanafin came in last place with 10 votes.
In terms of service to the party Lenihan has certainly paid his dues, but today he was not rewarded. Like Brian Cowen, his failure to act decisively and communicate his intentions clearly ultimately cost him the leadership.
Additional reporting Malachy Browne