Government negotiates student fees but ignores alternative solutions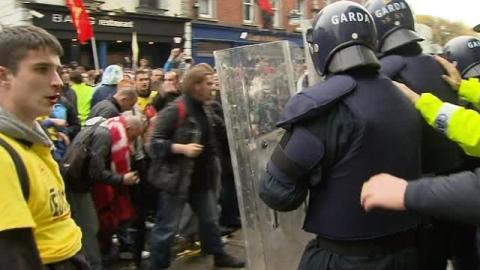 Plans to double the student registration fee are now "off the agenda". Instead, a smaller increase in fees of between €500 and €800 will be introduced, bringing total charges to just under €2,000. Fianna Fáil and Green Party ministers are negotiating the precise charge that will be introduced in the forthcoming budget.
Over 20,000 students turned out on the streets of Dublin last week in protest over the proposed increases. USI president Gary Redmond said a rise in the registration fee would have a devastating impact on students. "I think we're looking at a horrendous situation where parents and families are going to have to decide which, if any, of their children can go to college in future."
The Fees U-turn
Labour leader Eamon Gilmore said the revised Programme for Government committed to no new scheme of student contribution for third-level education. He said that it had been interpreted by the Green Party as meaning that fees would not be reintroduced by the backdoor by way of an increase in the student registration fee.
There is an Alternative
In 2009, Green Party TDs vetoed a proposal by Batt O'Keeffe to introduce a new loan system where college would be free at the point of entry and repaid by graduates once working. Student registration fees would be bundled with the fees of about €5,000 per year - the average annual cost of a degree in Arts or Business. The debt would be repaid when students graduated and were in employment.
A Fine Gael Green Paper on reform of higher education, entitled "The Third Way" (2009) proposes an alternative similar to Australian Higher Education Contribution Scheme (HECS).
Fees were abolished in Australia in 1974 and brought back in 1989 under this new system, the first of its kind in the world. Under the HECS system students take out government-sponsored loans. The debt is repaid through the income tax system when the student starts working.
Under the Australian system once the graduated student earns above AUD$41,595 (€24,549), loan repayments are made.
The system was developed by Professor Bruce Chapman of the Crawford School of Economics in Canberra, who pointed out the system has not discouraged "poor prospective students" from enrolling in Australian universities.
According to the Australian Department of Education, the average length of time for full repayment of the student loan is seven-and-a-half years.
The Fine Gael report which was produced by Brian Hayes TD Spokesperson on Education and Science states: "we reject the reintroduction of fees option. We think that fees are crude and unjust. They place a disproportionate cost on the less well off in our society. We believe that they act as a barrier to third level participation."
An "alternative way" of funding is proposed under a student loan system. Those who can afford to pay upfront can do so while others will repay the debt once in employment. The report states:
"The contribution should be collected through the PRSI system. This will require an amendment to the relevant legislation to establish a new dedicated fund for Higher Education. There is no interest charged on the graduate contribution."
Fine Gael estimates that this graduate contribution scheme would generate up to €500m per annum.
Fianna Fáil's revised increase in student charges is set to generate an additional €30 million a year for the sector, whereas a doubling of student charges was projected to generate an extra €65 million.