Government must investigate 'rendition' flights through Shannon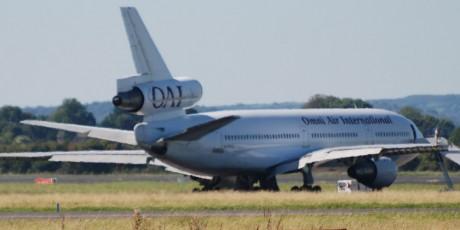 A cabinet committee set up to investigate the use of Shannon airport by the US military for flights engaged in 'extraordinary rendition' has met only twice since its establishment, says Amnesty International. By Deirdra O'Regan.
Today marks the eighth anniversary of the opening of the notorious Guantánamo Bay detention centre. US President Obama has pledged that he will close the facility, which has become synonymous with torture and practices deemed illegal under international law, by 2011 (after a previous deadline of 2010 was not met). However, Amnesty International has used the anniversary to draw attention to the ongoing issue of 'rendition' flights passing through Shannon Airport.
(Picture: A US OMNI Air Troop-carrier in Shannon in September 2009)
In November 2008, the government formed a committee with the ostensible purpose of examining possible legislation and practise for the examination of flights passing through Irish airports which are suspected of rendition. Its establishment was called a "glimmer of light" by Amensty International at the time. However, according to Amnesty, over a year later the committee has only met twice.
The committee is made up of the Taoiseach, Brian Cowen, Minister for Justice, Dermot Ahern, Minister for Foreign Affairs, Micheál Martin, Minister for Transport, Noel Dempsey and John Gormley, Minister for the Environment. It arose as a result of commitments made in June 2007 in the 'Programme for Government 2007 – 2012', where the new Irish Government declared that it is "completely opposed to the practice of extraordinary rendition".
Amnesty International contends that on at least four occasions, and possibly many more, Shannon was used to facilitate rendition flights.
The term "rendition" refers to the international transfer of individuals from the custody of one state to another in ways that circumvent judicial and administrative due process. Fundamentally, renditions violate international law by failing to respect requirements of due process, however, they frequently involve multiple human rights violations, including unlawful detention and torture.
Ireland's involvement as a stopover point for aircraft involved in renditions has been publicly known since 2005 when it was first raised in the Dail. When asked about CIA rendition planes using Shannon airport, the then Minister for Foreign Affairs told the Oireachtas: "If anyone has any evidence of any of these flights please give me a call and I will have it immediately investigated." In response, Amnesty International brought evidence to the government's attention, in the form of flight logs, showing that six planes known to have been used by the CIA for renditions had made some 800 flights in or out of European airspace including 50 landings at Shannon airport.
Speaking on RTE's 'Drivetime' this evening, Colm O'Gorman, Executive Director of Amnesty International Ireland, said: "Ireland is complicit in extraordinary rendition, is complicit in a breach of international law and human rights law and is obliged to do something about that".
In response to Amnesty's calls, the Department of Foreign Affairs said that "it has assurances (from the US) that no prisoner has been transferred through Irish territory."
However, Mr. O'Gorman said that the UK, the US's closest ally during the post 9/11 years, were also 'assured' by the US that their airports were not used for rendition flights, an assurance which subsequently proved to be false. He said "government continues to rely upon and to trot out the same assurances; it's simply not credible."
In late December, 'Shannonwatch', a coalition of peace and human rights activists who document the use of Shannon by US aircraft, expressed concern that aircraft used for rendition was still passing through Shannon airport.
On the anniversary of the opening of Guantanamo, Mr. O'Gorman urged Irish people to remember that although Obama has pledged to shut Guantanamo, he has made no such pledge with regard to rendition and the practise continues to be sanctioned under his administration.
Mr. O'Gorman further said that "the Taoiseach must announce when the Cabinet review will finally take place (and) ensure that it is comprehensive and commit to making the findings public."
Above: Edward Horgan of Shannonwatch speaks to an International Peace Conference, organised jointly by the Peace & Neutrality Alliance and the Irish Anti-War Movement, at Shannon on 5 September 2009.