A government that 'confuses hard decisions with bad decisions'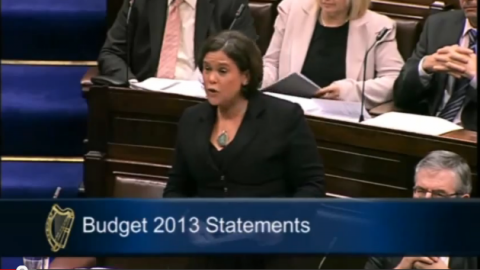 Below, the full text of Sinn Féin deputy leader Mary Lou McDonald's budget speech, delivered yesterday (5 December) in the Dáil. Scroll to the bottom to view a video of the speech.
Here we go again. This is the sixth successive austerity budget, the sixth time that Ministers have announced a vicious attack on the living standards of low and middle income people and their families. This Labour-Fine Gael Government shares the same perverse instincts as the last Fianna Fáil-led Administration and the same unshakable belief that punishing struggling families is somehow fair. It is not. Neither is it acceptable.
It is deeply insulting to the wellbeing, not to mention the intelligence, of citizens to parrot the rhetoric of fairness constantly while delivering policies that devastate their standard of living and their morale. It is a bad joke to speak the language of economic growth and jobs while introducing another contractionary budget that will further damage the domestic economy, lengthen the dole queues and send more of our people onto the emigration trail.
Despite the media hype and the supposed haggling at Cabinet, it turns out that, once again, Fine Gael has it largely its own way. Inequality on Fine Gael's watch comes as no surprise. It does not "do" social solidarity. That is not in its DNA. Fine Gael takes the view that the working poor or people struggling on welfare can be offered up to protect wealth and the wealthy.
Today, the surrender of the Labour Party to this agenda is final and complete. The party of James Connolly is now led by the nose, following a course that brings devastation to low and middle income workers and their families. The Labour Party now defends the very policies that so angered it when in opposition. It stands shoulder to shoulder with a party that it vowed to rein in as partners in government. If Labour's plan on entering government was, as it claimed, to contain and put manners on Fine Gael, its plan has failed spectacularly.
Labour has surely hit rock bottom when the only comfort that its Minister for Social Protection, Deputy Burton, can offer to pensioners who cannot afford the new tax on the family home is that they can defer payment until after they die.
How gross is that? Just like Fianna Fáil before it, the Government runs a twin-track strategy of austerity, cutbacks and charges on workers alongside a craven appeasement of bondholders, bankers and international financial institutions. When one adds to that the truly warped sense of entitlement of senior politicians and the upper echelons of the public service on bumper salaries and pensions, then the full-scale madness at play becomes evident.
Let us be clear; none of that is lost on the general public. The budget is very bad news for everyone who counts the cent at the end of each week, who are put to the pin of their collar just to survive. There is no comfort in this budget for families saddled with negative equity - who are in mortgage default or muddling by on interest-only arrangements. There is no comfort for them but there is a tax on their home as they struggle to keep a roof over their heads. For the average working family this budget means a tax of between €300 and €500 in a full year on their home, a cut to child benefit, a reduction in health and education services and a decrease in their take home pay.
The decision to set aside the PRSI exemption is truly disgraceful. It will mean reduction of €261 per annum regardless of income. That will be the cut, regardless of income, whether one is on €18,000 per annum or €180,000. Not alone that, the Government also decided to tax maternity benefit. Those who wish to start a family are to be penalised for the choice. That is a regressive measure that is anti-family and anti-woman. For those out of work the prospects are even grimmer, mainly because the Government has failed to deliver any job creation plan despite all of the talk. It cynically relies on emigration – the loss of our brightest and best – to reduce the numbers on the live register.
The Government is to reduce the social protection spend by €452 million. The pretence by Government that it has protected welfare payments is downright dishonest. It is a lie. The Government is cutting the jobseeker's benefit entitlement by three months. That will hurt people. People who try to get back to education are being penalised by the reduction in the back-to-education grant. For those out of work who need additional assistance who must often wait for their welfare application to be processed, the budget for exceptional needs payments has been cut by €6 million.
The Labour Party and the Fine Gael Party claimed that they would protect social welfare. We see today that they have done nothing of the sort. The treatment of children in the budget is shocking. It runs against all the fine words and concern for child welfare expressed in the course of the children's referendum only some weeks ago. The Government is cutting the back-to-school allowance, which is intended to allow parents purchase clothing and footwear in order to get children back to school. The Government thinks it is morally or politically justifiable to cut the allowance by €50. The Minister indicated that an additional €14 million would be awarded to the Department of Children and Youth Affairs. That is tokenism at its cheapest and most cynical. No doubt the manoeuvre was cobbled together to save the blushes of the backbenchers who surely must have some strand and sense of decency left. The Government has cut child benefit again. I aim the point in particular at the Tánaiste and Minister for Foreign Affairs, Deputy Gilmore, and the Labour Party. That will hurt families. A family with two children will be down €240 per annum, while a family with four children will lose approximately €700.
Perhaps Members of this House do not understand what the child benefit payment is used for. Let me acquaint them with reality. It pays for such things as electricity bills. It buys a warm winter coat or a pair of shoes for children. A cut of that nature will mean that families will not be in a position to do those ordinary and necessary things. The Government has form in terms of child benefit. When the cut was made last year and lone parents were targeted, the Government promised a world-class Scandinavian model of child care to compensate. What a joke. If one were to ask the parents of this country, in particular mothers, about this world-class service, I am pretty sure of the answer one would get. It does not exist. This is a bad day for children and a bad budget for parents.
The Government has failed the first real test of its commitment to children and their welfare since the referendum. In direct contrast, the Government treats those on high incomes and those who are very wealthy with kid gloves. There is no additional tax on individual incomes of more than €100,000. There is no proposal to broaden the tax base. One could do it by levying a wealth tax. That would be a real property tax. Those at the upper echelons of the civil and public service are still protected – not by the Croke Park agreement – but by the Government. There is no tough medicine for them. The Government has flatly refused to address the runaway pay and has tinkered around the edges of dealing with excessive pension pots of a small number in the public service. The same Government will now go back looking for more from rank and file civil and public servants who exist on very modest incomes. So much for fairness, reform and political change.
Our country is in crisis with nearly 15% of the working population on the live register. The working class is hurting. The middle class - middle Ireland – is hurting too. Families who never thought they would see the inside of a community welfare office are now hard pressed to put food on the table and keep the lights on. We have said that to the Government time out of number, yet the Government sneers at our proposal to introduce an emergency pay cap of €100,000 in the public sector. That is a fine income but the Government sneers at the idea because it is not a choice it wishes to make. Were the Government to make such a choice, it would have allowed it to provide free school books for every child in the State; an additional incentive for one-parent families to remain in work; it could have doubled the budget for school meals; increased the fuel season allowance by six weeks; it could have reinstated 950,000 home help hours; and it could have restored the training and materials allowance for community employment schemes. The Government could have done all of that but it does not have the bottle to make such a choice. While it would be a hard choice, it would also be a fair one.
The Government's "I'm alright Jack" attitude is perhaps most clear in its failure today to deal with politicians' pay or to deal conclusively with allowances. The Government has tinkered around the edges. Bully for the Government. Let me highlight some of the measures the Government has left intact. It will still give committee chairpersons an additional €9,000 for the glory of chairing a committee. It will still give so-called super-junior Ministers an additional €17,000 just for showing up at Cabinet meetings. The Government will still shell out huge salaries in breach of its own cap to its special advisers.
It is a cruel irony that the Minister for Social Protection, Deputy Joan Burton, pays her special adviser €127,000 per annum. Fancy that. The Minister for welfare cutbacks awards her adviser €127,000. The Government should have ended that situation today. It should have capped the pay of special advisers. It should have abolished the special payments for committee chairpersons. It should have gone much further and placed a cap on politicians' pay. If this Government was serious, worth its salt and committed to fairness that is what it would have done but the truth is that under Fine Gael and Labour, a great deal was promised but in reality the same old boys club culture remains.
I can see in my mind's eye the Economic Management Council, a very grandiose title. I can see the Taoiseach, the Tánaiste and the Minister for financial misery - four men in a huddle - reassuring each other, to borrow the words of the Minister, Deputy Howlin, earlier, that they would get through these difficult times. Good for them.
It is a pity they did not consider how others - citizens, families, mothers and women - will make it through these times. So enamoured of themselves are they that they still pay themselves way over the odds by European standards. I will give the Taoiseach an example. The French President earns €20,000 a year less than the Taoiseach. French Ministers are paid €40,000 less a year than their Irish counterparts. I will spell that out for him. France is not in a bailout, and its population is 13 times that of our own. Are the Ministers opposite really worth it? Are they for real?
The health service is under unbearable strain; it is just not working. The Minister, Deputy James Reilly, is not up to the job of management or reform. Under his watch 870 hospital beds have closed, 1,200 nursing home beds have closed, 950,000 home help hours have been cut from the system, and there have been cuts to disability services.
We know also that last year's budget was a work of fiction. It is ironic that the very Department that requires a supplementary budget of €360 million, is now to be cut by €1.1 billion in a full year. How on earth will the Minister do that without damaging the most basic of care?
The increase in prescription fees and the cut in the drug refund scheme will add to the distress of patients of all ages but in particular it will add to the distress of parents with sick children.
The Minister gives no credible detail in his budget in terms of the savings he proposes from generic medicines or private income from beds in public hospitals. We do not have the detail on this but it is fascinating that the Minister will make a cut of €44 million to primary schemes. He has hit the electricity and gas package for the elderly by €23 million and their telephone allocation by €61 million.
The Minister has targeted education again. Once again he will ask third level students for an additional €250. I do not know if the Minister sees the contradiction between his stated position for educational excellence for a knowledge economy and pricing students out of education but students can now see his two-faced approach. He sold them a pup at the last election. He will not do that again because the students are not fools.
It is less than three weeks to Christmas and families have scrimped and saved to provide for the holiday period. People do not have very much now, but they still have pride in themselves and in their families. They still have a sense of what is right, fair and just.
The need to take tough decisions is a constant refrain of this Government but tough for who? It confuses hard decisions with bad decisions. It looks for soft options and soft targets. The spectacle of a Government that talks tough when punishing its own people and yet time and again returns home from European Council meetings with its tail between its legs is truly pitiful. It is unworthy of those it represents.
Has the Taoiseach had the tough talk with Angela Merkel or the lads from the troika? Has he told them that we cannot and should not be expected to pay the debts of others? He has not. He disguises his lily livered, gutless interaction with our European Union partners with guff about repairing our international reputation. Give us a break.
If the Taoiseach is unable to secure a deal on the debt burden, on the promissory note, and if he is incapable of deficit reduction that does not crush low and middle income families then he is not up to the job of government. It is that simple.
This Government is now 20 months in office and this is its second budget. There is nowhere for it to hide. It chose the well-worn path of the Fianna Fáil gang that went before it. Fianna Fáil brought this State to its knees and now Labour and Fine Gael are keeping it there. Fianna Fáil sheltered the rich, protected wealth and insulated privilege. Now this Government follows suit. Its choice is to protect those at the top and punish the rest. It should not come into this Dáil ever again and waffle about fairness. This Government is not fair. It could not handle fairness, and its budget today is testament to that.