Gilmore and Rabbitte built their careers on cynicism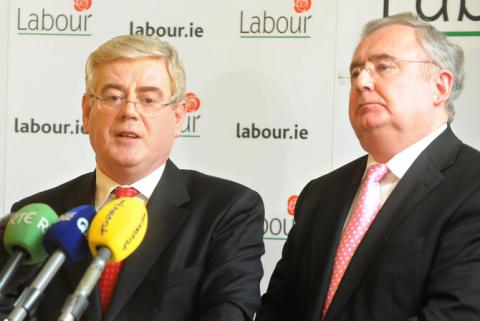 There is hardly anything for which Labour stands, or rather stood, that it has not dishonoured in government in the last 22 months. By Vincent Browne.
Pat Rabbitte and Eamon Gilmore entered electoral politics via student politics and trade union politics in the 1970s and 1980s. Together they have done more than most to engender cynicism about politics generally from an early stage in their political careers and together, in government, they have done more than most to add to the mountain of cynicism there is now about politics.
Their early contribution to cynicism was the unexplained volte face on the radical politics they both expounded in their early careers. For instance, Pat Rabbitte excoriated the Labour Party in government with Fine Gael in the 1970s for its "betrayal" of its "principles and objectives", claiming that the "capitalist system cannot fulfil the needs of the working class".
They were enthusiastic supporters of a "Left Alternative" which held that "private enterprise" had "totally failed". It is no disgrace for someone to change their political views, but they never explained their somersault.
More cynically, they remained allied to the Workers' Party (it dropped the Sinn Féin bit after a while), while it was linked with the Official IRA, which, right through to the late 1980s was engaged in murder (for instance, the murder of a former member, Séamus Costello – by no means the only murder in that period), intimidation, racketeering, armed bank robberies and forgery – a printing press used to forge bank notes was linked to the party.
And during all that time, while media reports revealed the extent of this criminality linked with the party, they remained members and joined in the dogged denials even of the existence of the Official IRA.
Eventually, in 1992, they acknowledged the link with paramilitarism and made a virtue of abandoning the Workers' Party to establish Democratic Left, from which they again admonished the Labour Party for participating in a coalition government and betraying its principles.
They had no problem in 1997 joining the party they had excoriated and Pat Rabbitte became its leader in 2002. He played his part in adding to the excesses of the Celtic Tiger era by being the first out of the traps in the 2007 election campaign to propose a cut in income tax, a boost to property sales and considerable additional public expenditure, the latter being part of a five-point plan to which he gave a "personal commitment".
It goes almost without saying that in a coalition compromises have to be made to the election commitments made by the parties in government. But when a party promises that, irrespective of whatever other compromises may be required, some policies will not be compromised, then the electorate is entitled to expect that at least those policies will endure.
Not so with Labour. Eamon Gilmore said absolutely explicitly Fine Gael's insistence on cutting child benefit would have to change, thereby acknowledging the necessity of other compromises in a coalition arrangement but promising that on child benefit it would be Fine Gael that would have to yield. He broke that promise and Pat Rabbitte wriggled to justify it. The breach and the wriggle, certainly along with the bluster about "either it's Labour's way or Frankfurt's way", did more than the media has done cumulatively to denigrate politics.
Pat Rabbitte, in his ministerial office, has been such a disappointment. Nothing at all done about the accumulation of vast media power by a person against whom very serious findings have been made by a tribunal, Denis O'Brien. The mess made by Pat Rabbitte about the inquiry into RTÉ's libel of the missionary priest Kevin Reynolds. The swaggering initial talk about confronting the RTÉ board and then the abject back-off. And the relentless pirouetting.
But much more than that. There is hardly anything for which Labour stands, or rather stood, that it has not dishonoured in government in the last 22 months. And, in concert with Fine Gael, it has divested parliamentary democracy of whatever vestiges of substance that had survived previous cynical administrations.
We were promised a "new politics" with more accountability that would make parliament more relevant. But the very agents that supposedly are to enforce accountability on government, Oireachtas committees, have been made entirely subservient to government, thereby subverting that accountability.
For instance, it is the heads of the Government who decide who serves on Oireachtas committees, who the chairpersons are, what the terms of reference of inquiries are and what inquiries are permissible.
Government TDs who propose to vote in support of the policies that got them elected but which the Government now wants to dishonour are threatened with career immolation should they fail to have the "courage" to do as they are told.
The old cliche about all political careers ending in failure hardly captures what Pat Rabbitte and Eamon Gilmore have achieved. A lot of cynicism engendered, a lot more to do.
Image top: The Labour Party.