Election date set as Cabinet reshuffle results in no new appointments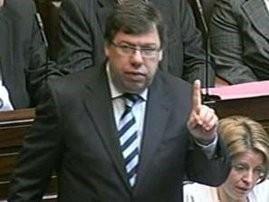 At 13.30 this afternoon Taoiseach Brian Cowen made a statement to the Dáil in which he announced that the resignations of Deputies Harney, Ahern (Dermot), Killeen, Dempsey, and O'Keeffe had been accepted. He also set the date for the general election which will now take place on 11 March.
In his speech Mr Cowen paid tribute to the six ministers who have resigned.
It appears the widely anticipated Cabinet reshuffle has been blocked by the Green Party who did not appear in the Chamber for the Taoiseach's statement.
Instead of appointing new people to the frontbenches, the Taoiseach has been forced to reassign the various portfolios to existing ministers.
Responsibility for Health has been reassigned to Mary Coughlan; Justice & Law Reform to Brendan Smith; Transport to Pat Carey; Defence to Eamon O'Cuiv; and the Enterprise, Trade & Innovation portfolio was assigned to Mary Hanafin.
Responding to Opposition allegations that this was a failed political stunt, Mr Cowen said, "There was no question that I as Taoiseach was engaging in any kind of stunt...what this election is about is the future of the country."
Labour Party leader Eamon Gilmore said, "The Taoiseach attempted a stroke and it backfired".
Fine Gael's Enda Kenny said the Taoiseach's statement had given "finality and conclusion and clarity" to the issue. Speaking earlier on RTE's News at One, Mr Kenny commented on the events in Fianna Fail by saying, "I have never seen anything as bad as this in my 35 years in Dail Eireann."
While all opposition parties welcomed the confirmation of an election date, Sinn Féin's Caoimhghín Ó Caolain said the date should have been set for 11 February instead of March.
Brian Cowen has shown spectacular political miscalculation by accepting these resignations before clarifying the issue with the Green Party; the end result is that he has seen his authority as Taoiseach substantially diminished.
Later this afternoon Minister of State Conor Lenihan called on the Taoiseach to resign. According to RTE (via @RTE_Elections Twitter account), Mr Lenihan said Cowen's authority and credibility have been eroded and many people who voted confidence in him at Tuesday's meeting of the Fianna Fail parliamentary party are now thinking the opposite
The Cabinet as it stands:
Brian Cowen     -   Taoiseach / Foreign Affairs
Mary Coughlan  -   Tánaiste / Education & Skills / Health & Children
Brian Lenihan   -    Finance
Eamon O'Cuiv   -   Social Protection / Defence
Brendan Smith -   Agriculture, Food & Fisheries / Justice & Law Reform
Mary Hanafin   -   Tourism, Culture & Sports / Enterprise, Trade & Innovation
Pat Carey        -   Community, Equality & Gaeltacht Affairs / Transport
John Gormley -   Environment, Heritage & Local Government
Eamon Ryan   -   Communications, Energy & Natural Resources