Deirdre de Burca resigns from Green Party and Seanad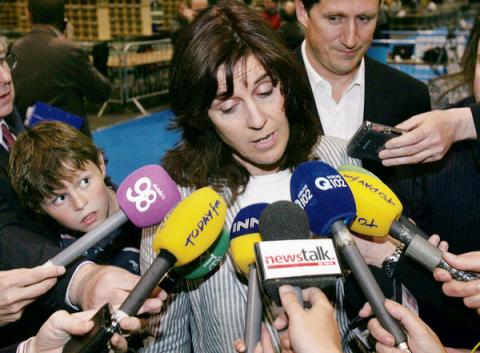 Deirdra de Burca resigned from the Green Party this morning. In a letter to party leader John Gormley, Senator de Burca said that she could no longer support the party because it had "abandoned [its] political values... and become no more than an extension of the Fianna Fail party". De Burca said that the party leadership was unwilling to captitalise on Fianna Fail's reliance on Green Party support in the Dail.
The resignation is the latest in a list of former Green Party representatives who have become disillusioned with party principles since its entry into Government. Edward Horgan, former MEP Patricia McKenna, Bronwen Maher, Chris O'Leary and Betty Doran have all resigned as Greens since the 2007 election. 
Green Party representation on city and county councils was all but obliterated in last year's local elections, with only two Green Party councillors elected.
In her letter of resignation, De Burca expressed serious discontent with Minister John Gormley's stewardship of the party in government, and gave an insight into the dynamic with Fianna Fail. She said:
"I have lost confidence in you as Party Leader. The Parliamentary Party has had almost daily meetings now since well before Christmas at which we have discussed the very real problems we are experiencing in getting Fianna Fail to co-operate with us in implementing policy initiatives that were agreed as part of the original, and the revised Programme for Government. From stonewalling us and trying to unravel key aspects of our policy initiatives being implemented, to ignoring our input into the preparation of new legislation, to reneging on two key agreements made between Party Leaders, the Fianna Fail Party continues to 'run rings' around us and to take advantage of our inexperience and our very obvious fear of facing the electorate.
"Despite the fact that you have been asked on many occasions over the past few months by the Parliamentary Party to take a stronger line with Brian Cowen and the Fianna Fail party in relation to certain core issues, you have clearly been unable, or unwilling to do so. Unfortunately the effect of this unwillingness to act is that the Green Party has been slowly haemhorraging support because of a growing public perception that we have lost the courage of our convictions and have become no more than an obedient 'add-on' to Fianna Fail. For example, I am aware that you as Minister have a key report in front of you from Dr Niamh Brennan on the issue of the Dublin Docklands Development Authority. I'm afraid I lack the confidence that the findings of this report will be acted on in the timely and appropriate manner that the public interest requires."
She also said that John Gomley has "done a disservice to the Green Party and to its members in allowing this 'drift' to occur". She accused Gormley of rescinding the party's "fundamental political purpose" for seats in government.
De Burca concluded: "We have lost our way as a party and I am sad to say that it has reached a point where I, and most of the people I know, will be unable to vote Green in the next election."
The Green Party responded in a statement that it was disappointed with her decision and said the Parliamentary party is "totally united and will continue to operate in a collegiate way". The statement outlined its achievements in government and the 80% support of its members for the initial (2007) and revised (October 2009) Programmes for Government.
The full text of Deirdra de Burca's resignation letter is available here.