Days are numbered: Time for Fianna Fáil to reinvent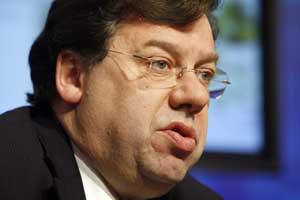 After 1,011 days as party leader, Brian Cowen's position has become untenable. Following drip-fed revelations of a cosy occasion with senior Anglo bankers and accusations of making representations to the NTMA on behalf of Anglo, the perception is now of a Taoiseach tied to big business. By Malachy Browne
Already at an historic low, Brian Cowen and Fianna Fáil's approval rating will languish at best, and possibly fall again unless the leadership question is addressed. The most recent Red C poll reported only a 10% approval for Brian Cowen as Taoiseach and 14% for Fianna Fáil. Half of voters said that they would vote for any party other than Fianna Fáil. An unscientific text poll conducted on yesterday's Joe Duffy radio programme attracted 10,000 votes in 10 minutes; 83% of respondents believed that Brian Cowen should resign as party leader. In a similar poll in September 2010, 77% of respondents believed that Brian Cowen was unfit to govern as Taoiseach.
While it is likely that Cowen would remain on as Taoiseach until the government is dissolved, pressure is mounting to resolve the question of party leadership. Brian Cowen is meeting parliamentary colleagues individually throughout today to gauge sentiment.
Three ministers have expressed interest in running for party leader should the position arise – Brian Lenihan, Micheal Martin and Mary Hanafin. None has yet mounted a challenge. But yesterday evening Micheal Martin encouraged party members to be frank with Mr Cowen and declined to express support for the Taoiseach.
In a previous interview, Ms Hanafin also notably evaded expressing support for Brian Cowen as party leader. Mary Hanafin expressed hope that the consultation process be concluded before the weekend. She said this morning that she would not disclose to the media what she intended to say to Brian Cowen until after she spoke with him. (The suggestion here is that she will make public her conversation with Brian Cowen.)
Brian Lenihan's brother Conor today said that there is public cynicism about the Taoiseach's dealings with Anglo Irish Bank executives. He said that in his belief, Mr Cowen had not acted inappropriately with Anglo, but that public perception was the main problem facing Fianna Fáil. Conor Lenihan said that his party colleagues in Tallaght feel that new leadership is required.
Former TD and rugby international Jim Glennon said on Morning Ireland today that calls were made last night by possible successors to garner support for a leadership contest. Glennon believed that today's consultation by Brian Cowen is "facilitating his own withdrawal". "For me, the end is imminent," Glennon said.
Outcomes
Loyalists to the Taoiseach reiterated yesterday and today that Brian Cowen will act in the best interest of Fianna Fáil. Others have suggested that he is a steely politician and will defend his leadership. Today's consultation is somewhat consensual, though ultimately Brian Cowen himself is the sole arbiter in the exercise.
The least fractious outcome for Fianna Fáil would be a voluntary withdrawal as leader by Brian Cowen followed by a leadership contest. This could occur in the coming week. Or Brian Cowen may give an undertaking to see the Finance Bill through and step down as party leader after the government is dissolved. This would assuage today's upheaval and allow a civilised leadership contest, leaving ample time to co-ordinate an election campaign under new leadership.
A second outcome is that Brian Cowen will stay the course. This places the possible successors in a predicament. Before mounting a leadership challenge, they must decide first if they wish to lead Fianna Fáil into the next election. It will be an ugly election for the party. Fianna Fáil candidates will vie for valuable votes in nearly every constituency. In many, no Fianna Fáil candidate will be returned – only 10% of voters in Dublin indicated to Red C they would give Fianna Fáil a first preference in the election.
A third outcome is that Brian Cowen will lead the party into the election and resign thereafter. The only reason this makes sense as a strategy is to ensure that a TD from the next government succeeds him. For neither Mary Hanafin, Brian Lenihan or Micheal Martin are assured re-election.
The inherent risk in this approach is that Fianna Fáil could face obliteration given its dire approval ratings. As political analyst Noel Whelan suggested today, the party is in danger of falling off the 14% precipice.
Loyalists
Loyalists to Brian Cowen persist, however. Eamon O'Cuiv said on today's Morning Ireland that it would "be invidious" of him to remain in Cabinet if he had no support for Brian Cowen as Taoiseach. Batt O'Keefe said that he has seen no indication from any colleagues that they wish to resign their position or challenge Brian Cowen for leadership of the party. Tánaiste Mary Coughlan, a loyal supporter of Brian Cowen, supported Mary Hanafin's call for a swift resolution.
Speaking on RTE's News at One, Tainiste Mary Coughlan said: "I do support the Taoiseach's ability and acumen." She suggeted that Cowen's travails have come from poor poll ratings rather than the Anglo debacle. And that this is compounded within the party by Fianna Fail candidates who are experiencing difficulty while campaigning for the coming election. "He himself will make his own decision," Coughlan said. "And he will make a decision."
She said that "Fianna Fáil will have a seismic role in the country...", to which interviewer Sean O'Rourke quipped that Fianna Fáil has had enough of a seismic role in the country
A new beginning?
A new leader is likely to stem the haemorrhage in support for the party. But it is difficult to predict if this alone will improve the party's position during the general election. A fresh face may give Fianna Fáil the required seats to be considered in a coalition with Labour, should they win sufficient seats. This is an unlikely scenario, but not impossible.
For this to happen a new leadership would be helpful as it would give Labour the necessary excuse to enter a coalition with Fianna Fail. 
Who would the best leader be for this new beginning? Fianna Fáil's problem is the perception of cronyism. The Galway tent, the Druid's Glen golf game with Anglo executives, associations with builders and developers, planning irregularities, Bertie's money – these are the core problem for Fianna Fáil, and arguably politics in general. It allows wealthy people direct access to (and influence over) decision-makers who are elected to take decisions in the public interest. (This is not unique to Fianna Fáil - Fine Gael miraculously extricated itself from debt when it was last in power).
This cronyism is a picture of masculinity, a cosy club of big fellows. This is not to imply that Micheal Martin or Brian Lenihan are cronies: Micheal Martin won approval as a putative leader in a recent poll; Brian Lenihan is associated with the fateful banking guarantee and therefore is less attractive. But electing Mary Hanafin as party leader may give the impression of a new politics, a break from the Fianna Fáil of old.
A simplistic assessment, perhaps, but God knows it is needed.