Cowen bows out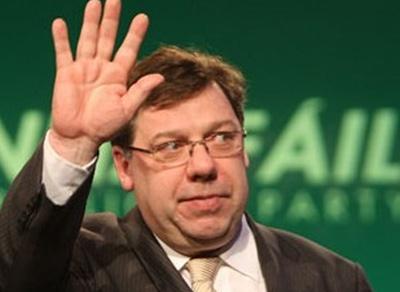 Brian Cowen delivered his valedictory speech as Taoiseach in the Dail today in front of all parties, his wife and two daughters. This afternoon, he tendered his resignation as Taoiseach and President Mary McAleese dissolved the Dail. Yesterday, Brian Cowen announced that he will not contest the next election.  
"It has been a privilege to serve the people of Ireland," he said. He wished all members of the Dail well especially those retiring from politics, and said he had made "enduring friendships that go beyond politics".
A general election has been announced for 25 February; the incoming government will reconvene on 9 March, Mr Cowen said. By Christina Finn
Mr Cowen said that having entered the chamber at the age of 24 that his "overriding objective was always to do my best. I can honestly say the common good was my overriding concern".
"The past two and half years have been a great trial and test for me," he said. "I believe we have worked hard to correct past failures."
Mr Cowen said that "politics is to serve the public". "I have no time for cynics who talk down people in public life".
The choice people make in the election is "fundamental", he said. "This election will decide our economic future."
He said the next election should "not be about personality but about serious debate".
"We all have a duty to instil confidence and not talk Ireland down for short term political gain."
"Ireland will be prosperous again if responsible policies continue to be pursued." He concluded with a poem by the philosopher John O'Donohue on political leadership. He said he would travel to Áras an Uachtaráin and ask the President to dissolve the Dail.
The leaders of the opposing parties were clearly in election mode with their speeches to the chamber.
Fine Gael leader Enda Kenny wished the Taoiseach and his family all the best. He continued on to list the changes that Fine Gael would make if successful in the next election. Deputy Kenny said "no country has ever taxed its way to economic recovery".
Deputy Kenny said Fine Gael in government would reverse the mistakes of Michael Martin and the introduction of the HSE and introduce a new health system that would "end apartheid in the health service". 
He said that "accountability starts at the top" and Fine Gael would cut the number of politicians, reduce TD's salaries and introduce car pooling.
By 2016 Fine Gael would make "Ireland the best small country in the world in which to do business".
Labour leader Eamon Gilmore welcomed the upcoming election stating that "at last people will have their say".
"The future lies in the hands of the people," he said. "We can and will get through this recession; we can and will fix the system that is broken. The best days are still to come."
He said that Ireland's problems were too big for us to be concerned with each others differences and that it was a time for everyone to "pull together - women and men, gay and straight". "Our country is too small and our problem's too big."
John Gormley, Green Party leader welcomed the election but said that politicians should not make hollow promises to the people. "Tweedle dee and Tweedle dumber is what we are going to get in the next election if so". Critical of Labour and Fine Gael, Mr Gormley said he feared that 2011 would see another election of broken promises. He said that the election contest should be fair, and criticised fellow Dublin South East TD Lucinda Creighton for erecting election posters before the election was called. Photos of Lucinda Creighton's election posters on Leeson Street bridge were circulated on Twitter yesterday evening. Candidates are prohibited from erecting posters before an election is called.