Cowen and Fianna Fáil intent on self-annihilation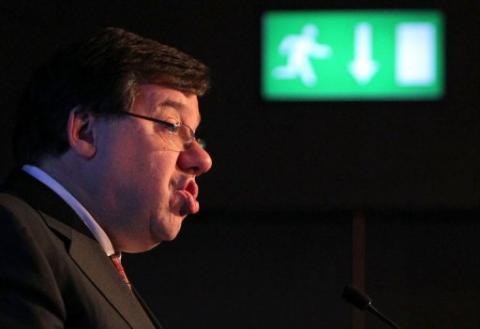 Fianna Fáil's election strategy got off to a shambolic start yesterday as a botched attempt at a Cabinet reshuffle once again raised questions about Brian Cowen's leadership. By Alison Spillane
For perhaps the first time in Irish history the two civil war parties have a combined score of less than 50% in the opinion polls (the latest Red C poll put FG on 35% and FF on a record low of 14%). It is possible that a seismic shift in Ireland's voting habits will occur at the general election, set for 11 March.
Fianna Fáil is in unchartered territory; if the party wants to exist in any meaningful way after the general election it must develop a coherent electoral strategy fast. So entrenched is the party in a majority mindset that it currently has multiple candidates contesting constituencies where the party will, at best, win one seat.
Got a minute? Please take this survey for a Politico magazine.
An example here is Dun Laoghaire which has changed from a five-seat to a four-seat constituency. Fianna Fáil holds two of the seats through Mary Hanafin and Barry Andrews. Both feel they have a solid base in the constituency and neither one is willing to move to Dublin South to contest the seat occupied by outgoing TD Tom Kitt.
By running two candidates in Dun Laoghaire, Fianna Fail risks splitting the vote with the possibility of both TDs losing their seats. Moreover, Labour, Fine Gael, and Independents have mounted strong competition. Labour leader Eamon Gilmore will hold his seat and hopes to sweep Ivana Bacik to the Dáil on the so-called Gilmore Gale.
Fine Gael veteran Seán Barrett will stand in the constituency, as will former PD Mary Mitchell O'Connor, also running on the Fine Gael ticket. High-profile activist Richard Boyd-Barrett will represent the United Left Alliance. Boyd-Barrett narrowly lost out in 2007, with Ciaran Cuffe winning the final seat by a few hundred votes in the sixth round.
There is also speculation that economist David McWilliams will contest the election in the Dun Laoghaire constituency. Independent Victor Boyhan will also run. Sinn Féin has yet to select its candidate and may choose not to run one. Former Sinn Fein councillor for Dun Laoghaire Eoin O'Broin would have been a natural choice, but he is now living and running for election in Dublin Mid-West.
Fianna Fáil also faces an exodus of some household names; 16 sitting TDs have this far announced their retirement from politics, among them Noel Dempsey, Dermot Ahern and Bertie Ahern. And Fianna Fail lags behind its opponents in nominating candidates to replace the vacant seats; the party has yet to select candidates in nearly half of the country's 43 constituencies.
In light of yesterday's events, Fianna Fáil looks like a party intent on self-destruction. Just 48 hours ago, the party had regrouped and decided to continue with a 'rejuvenated' Cowen at the helm. Now questions arise again about Mr Cowen's capacity to lead the party. But as reported earlier by Politico, the Taoiseach demonstrated a shocking lack of judgement in the way he handled the attempted Cabinet reshuffle. The leadership issue has not gone away with Dublin South-West TD Conor Lenihan continuing to call for a heave. Micheál Martin, who opposed the vote of confidence in Brian Cowen, believes a change of leadership now would improve the party's electoral chances. After yesterday's events it is likely at least some of those who voted confidence in Brian Cowen on Tuesday are having second thoughts.
At this stage, with the election date set for 11 March and the fact that Cowen has already successfully fended off one challenger, it seems unlikely party members will make further moves to remove him as party leader.
However, the events of the past week have been so extraordinary that anything could happen. Whatever the outcome, Fianna Fail now is a party in utter disarray, damaging its electoral chances with each passing day.