Blinded to the realities in front of our eyes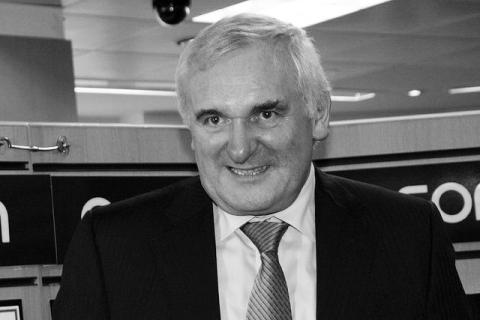 Power, ambition, conceit and deference lead us to deny that which is obvious, but which doesn't suit our own interests. By Vincent Browne.
Many years ago there was an emperor who was exceedingly fond of beautiful new clothes. He had a robe for every hour of the day, spent all his money on clothes and spent most of his time changing from one outfit to another.
One day two charlatans came to his kingdom, saying they were expert weavers who used the finest and most exquisite cloths and who had a unique speciality. They could compose the finest attire – attire that was invisible, but only to those who were not fit for the office they held.
The emperor was intrigued and ordered an entire outfit for himself. A few days later he sent along one of his ministers to see how the work was proceeding. The minister watched the charlatans weaving non-existent clothes on the loom and threading their needles with non-existent threads but thought that because he couldn't see anything he would be found to be unfit for the high office he held, so he expressed wonderment and satisfaction with the attire which he couldn't see.
A special ceremony was organised for the emperor to display his new finery, and when the emperor himself came to try on the new clothes, he too could see nothing, but feared he would be regarded as unfit for the office he held if he said so. The ceremony went ahead, with the emperor walking naked at the head of a great procession, and all the important people said how beautiful his new attire was.
When a little boy said: "But he doesn't have anything on!" and word spread throughout the huge throng that had come to view the spectacle, they all shouted in unison: "He doesn't have anything on!" All except the ministers and officials in the emperor's entourage and the emperor himself, who carried himself more proudly than ever, while his gentlemen-in-waiting carried the train that wasn't there.
The point of this familiar story is that power, ambition, conceit and deference can blind us to realities in front of our eyes, can cause us to deny that which is obvious but which doesn't suit our personal interests.
All these factors were at play in Fianna Fáil's persistent denials in 2006, 2007 and into 2008 over the then emerging realities about Bertie Ahern's personal finances.
Again and again during those years, senior Fianna Fáil figures, including Micheál Martin, denied the reality that was obvious to so many: Ahern had got large sums of cash from somewhere while he was minister for finance; that the circumstances whereby he came to own his home off Griffith Avenue in Dublin were mired in suspicion; and that he was telling lie after lie about the cash and the home, from his September 2006 interview with Bryan Dobson, to what he told the Dáil, to what he said at press conferences in 2007, and told the tribunal in 2007 and 2008. The ministers had a vested interest in not knowing or in pretending not to know what so many others knew merely from reading the newspapers or listening to radio and television.
Ministers protested we should all await the outcome of the tribunal, as though the persistent lying under oath by a person who was our taoiseach about monies he got while minister for finance was not then an issue that demanded to be addressed.
And it wasn't just Fianna Fáil ministers who did this: so too did Enda Kenny and Pat Rabbitte (then leader of the Labour Party) during the 2007 election campaign – they both protested it was a matter for the tribunal to decide, and was not an issue in the campaign.
Evidence that our taoiseach had received loads of cash while minister for finance and was obviously lying about it was not an issue at a time when he was seeking re-election to a third term.
For Kenny and Rabbitte, this wasn't denial – it was moral cowardice.
There remains another issue which has blinded many people, and it relates to Ahern's decision not to bother with bank accounts during the period in which he was negotiating a marriage separation agreement.
I do not know what Ahern's motivation was but I do know that the general belief, certainly shared by most of his ministerial colleagues in 2007, was that this was a customary precaution a man would take at a time when his wife was contesting the shareout of his income and other financial resources.
The idea being that, if the wife knew in full what his financial resources were, she could bring that to the notice of the family court, and that might result in an even more "penal" settlement as far as the husband was concerned.
In other words, it was okay to defraud the wife and to lie to the court. I am not saying that was Ahern's intention, for I don't know. I am saying that this was a general presumption among his colleagues and many others, and most seemed to think there was nothing wrong about it.
But the moral blindness goes much further: a blindness about how we have devised a society that is cruel, belittling and destructive for hundreds of thousands of our fellow citizens – a factor which features hardly at all in public debate or media coverage.
Image top: TBSteve.