Bertie to US ambassador: Please tell me I'm not lying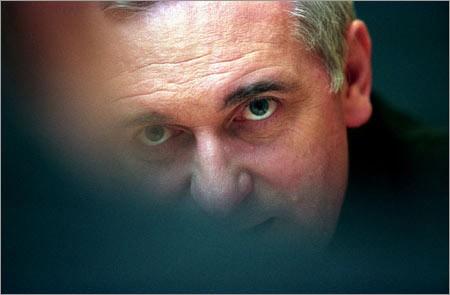 A newly released Wikileaks cable reveals that the Taoiseach desperately sought US assurances on Shannon renditions. By Harry Browne.
Bertie Ahern told the US ambassador he had been assuring the Dail that no "enemy combatants" were passing through Shannon, and pleaded with him: "Am I all right on this?" The Taoiseach's concerns are revealed in a cable just published by Wikileaks. The cable, classified "Secret" and apparently written by then-ambassador James Kenny, recounts a December 2004 meeting he attended with Ahern and visiting US senators John McCain and Lindsay Graham. The released version of the cable is incomplete.
According to the cable, Ahern "said that while there are no plans to alter arrangements with the U.S. at Shannon, the subject is 'beginning to worry people.'  He referenced his government's repeated defense of the U.S. military's use of Shannon to parliament, in which he and other ministers have referred to U.S. assurances that enemy combatants have not transited Shannon enroute to Guantanamo or elsewhere and will not without consultation.  'Am I all right on this?' he asked the ambassador."
Previously released cables from the Dublin embassy had shown foreign minister Dermot Ahern and other Irish officials with similar concerns. The cables do not indicate precisely what response the officials were getting from their American counterparts.
The newly released cable goes on to state that McCain, at the time known as a strong critic of the US's global torture regime, "told the ambassador he plans to raise Shannon with the Administration when he returns to Washington and will underscore how very important it is that the U.S. not ever be caught in a lie to a close friend and ally."
McCain's words appear to indicate that he was less trusting of US assurances on Shannon than the Irish government was.
The cable was released by Wikileaks because it formed the basis for a story published in Wednesday's Irish Independent, as part of the newspaper's partnership with Wikileaks. The newspaper's story, however, focused on other aspects of the cable, namely Ahern's attitude to Vladimir Putin, presumably saving the Shannon element until Friday, when the paper plans to deal with the issue.
The full text of the cable is below.