Bank guarantee a big mistake, but the country needs Lenihan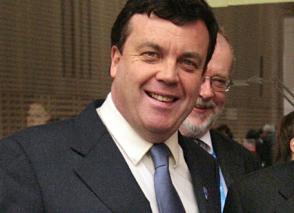 On a personal level it is to be hoped the Minister recovers quickly; it is also an important public matter that he does.
Brian Lenihan failed to call on me late at night to get my views on the banking crisis. Not even a phone call to ask my views on the Budget. I never shared garlic with him. He never gave me his opinion of his civil servants, or his views on Miriam O'Callaghan (have I got that mixed up?). I know him only slightly. But what I know I like and admire. He is a bit flaky, like his brother Conor. Also like his brother Conor and his late father, he is un-insultable, which is a delightful quality.
Despite his failure to canvass my views on the banks and the Budget, I was shocked to hear of Brian's illness. Shocked on a personal level and concerned on a political level. And I suspect that same sense of shock and concern was felt all around the country. And like everyone else, I hope he recovers quickly. It is important he does.
He has been the one member of the Government who seems to know how to deal with the economic and banking crisis. And he is one of the few members of the Government who bears no Cabinet responsibility for the policies and recklessness which caused both the economic and banking crises, crises which would have happened here anyway, irrespective of what happened globally.
The perception of confidence and resolve on his part has eased international anxiety about Ireland's capacity to deal with the crises. If he has now to withdraw from that role, even temporarily, our problems are graver, considerably so.
He was right about one big issue and, in my view, wrong about two other big issues. He was right in confronting quickly the fiscal deficit. The failure of governments from 1979 to 1987 to deal with the fiscal crisis then added to the misery of hundreds of thousands and banished more hundreds of thousands from the country. Confrontation with this collapse in the tax take was right, in my view. More dithering, like happened in the 1980s, would have been a big mistake.
But, in my view, the first of his mistakes was in how he dealt with the fiscal crisis. The gap in the public finances should have been resolved in drastically reducing the pay of those paid over €100,000 in the public service (everyone back to a maximum of €120,000), paring back the tax breaks which enable the rich to pay minimal taxes and otherwise raising taxes generally. Instead Lenihan chose to cut the lowest paid in the public service and the welfare payments of those who his colleagues in Government had driven into unemployment by their reckless management of the economy from 2002 onwards.
The second of his mistakes will probably be regarded in time as the more serious: the bailout of the banks. It is not at all clear why Brian Lenihan and Brian Cowen were panicked into a decision on the night of September 29th, 2008, to give a blanket guarantee to the banks.
The Department of Finance and Brian Cowen personally must have had prior notice, from at least the beginning of 2007, that the banks were in crisis, especially Anglo Irish. Michael Somers, then head of the National Treasury Management Agency (NTMA) said he knew Anglo was in trouble from then and it isn't believable he didn't tell anybody.
The officially designated authority on banking, Patrick Honohan, now governor of the Central Bank, has written in the Economic and Social Review: "A very simple warning sign used by most regulators to identify a bank exposed to increased risk is rapid balance sheet growth. An annual real growth rate of 20 per cent is often taken as the trigger. Each of the locally controlled banks had at least one year in which this threshold was triggered. One of them, Anglo Irish Bank, crossed it in eight of nine years, and indeed its average annual rate of growth 1998-2007 was 36 per cent."
So how was it that nobody shouted stop or, more likely, how was it that when many shouted stop Brian Cowen, Mary Coughlan, Mary Hanafin, Mary Harney, Micheál Martin, Dermot Ahern, Willie O'Dea, Éamon Ó Cuív, Noel Dempsey and Martin Cullen did nothing?
But aside from that (and we can see why there will be no inquiry into the banking crisis), the guarantee given that night on September 29th, 2008, was itself reckless.
Again to quote the oracle on this, Patrick Honohan: "No public indication has been given that the authorities gave serious consideration to less systemically scene-shifting – and less costly – solutions. For example, they might have provided specific state guarantees for new borrowings or injections of preference or ordinary shares – approaches that were widely adopted across Europe and the US in the following weeks."
There is much derision in left-wing circles about the response of the international financial markets to the Budget. In my opinion the derision is mistaken, for to keep the show on the road we need to borrow money and do so at a reasonable rate. However critical I am of how Brian Lenihan has addressed these crises, his withdrawal from the front line, even for a few months, would add to our problems.
We have good reason to wish him a speedy recovery.