Tribune demise confirmed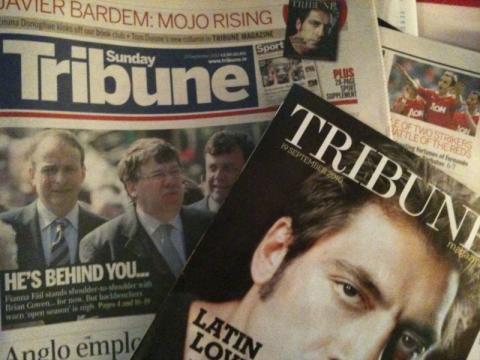 The final nail in the coffin of quality newspaper the Sunday Tribune was hammered yesterday afternoon. Staff received letters from the examiner, Jim Luby, informing them that no buyer had been found for the troubled title, and it would not publish again.
The 43 staff, including technical and support workers, will receive redundancy notices next Monday, February 28. Politico.ie understands that staff are entitled to the minimum statutory redundancy of 2 weeks' pay for every year of service (over the age of 16) plus one additional week. This is subject to a maximum earnings limit of €600 per week. These terms seem paltry compared with those received by staff at Anglo Irish Bank - four weeks' pay for every year of service, plus the statutory redundancy, capped at a maximum of 52 weeks' pay.
Earlier this month Politico.ie and other media reported that the paper had ceased publication (Tragedy at the Tribune). Its circulation had been falling for some time, but the decision by Independent News and Media to withdraw financial support pulled the rug out from the Tribune.
Speaking on Morning Ireland, editor of the Sunday Tribune Noirin Hegarty said that the past two years had been a difficult time as the paper "tried everything" to remain viable. She said that in the current climate, it was not possible to see the paper breaking even in the next two years and it was not possible to propose a five-year plan. She said the closure of the newspaper meant that many capable journalists will not be able to find work in Ireland. 
Last week the ABC reported declining sales at almost every Irish newspaper. 
Malachy Browne contributed to this piece.