Tragedy at the Tribune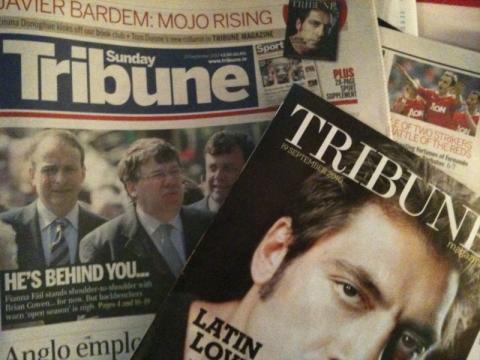 The Sunday Tribune newspaper, which has struggled financially for several years, has been placed in receivership. Dublin receiver firm McStay Luby was appointed yesterday (February 1), the company announced.
The move was precipitated by Independent News & Media (INM), which owns 29.9 per cent of the Tribune - the upper limit imposed by a 1992 Ministerial Order intended to prevent INM from gaining full control of the newspaper.
However, INM has held de facto financial control of the Tribune since the early 1990s. Every Managing Director and every editor of the Tribune since 1995 has come from INM. The loss-making paper has for several years depended on INM to fund these losses and it owes INM a considerable debt. Now, INM has called time on the respected publication.
INM also publishes the Irish Independent and Sunday Independent as well as numerous regional titles. The company's interest in the Tribune was a strategic and arguably anticompetitive one to prevent other Sundays (such as the Sunday Times and Sunday Business Post) from encroaching on the Sunday Independent's dominance of the broadsheet market.
Despite (and perhaps in spite of) INM's intrusion, the Tribune became respected and admired as an independent voice. This can largely be credited to Noirin Hegarty who, as of yesterday, has edited the paper for six years. In this time she guided a team of outstanding journalists - including Michael Clifford, Shane Coleman, Ken Foxe and Conor McMorrow - who produced quality, independent reportage and analysis of current affairs.
Ken Foxe won accolades for his exposure of the lavish expenditure of public monies, including that by John O'Donoghue during his time as Minister for Arts, Sport and Tourism. Michael Clifford made sense of Bertie Ahern's impenetrable blabbering to the Mahon Tribunal and upon the conclusion of the former Taoiseach's evidence, produced excellent articles which tied together the strands. Others include Justine McCarthy and Sarah McInerney who wrote for the paper before moving to the Sunday Times. Today FM and TV3 presenter Matt Cooper became the youngest editor of a newspaper when he was appointed to the Sunday Tribune in 1996.
Endemic loss-maker
The affection shown for the paper failed to translate into a readership sufficient to sustain it. With a circulation of over 100,000 in 1989, the paper's chairman Gordon Colleary reported sales of "62,000 or 67,000" in 2007. Recent figures from the Audit Bureau of Circulation (ABC) put sales at around 54,000 copies.
"There are 17 other titles, a lot of British titles with very deep pockets," Noirin Hegarty said on RTE radio yesterday. "There has been a tsunami economically in Ireland. People who used to buy two papers now buy one."
Decreased advertising revenues in a competitive market exacerbated the Tribune's difficulties. The paper was reported in January 2007 to have lost €42m and in July 2008 to have lost €49.5. Further losses were incurred through 2009 and 2010.
Surveys conducted by the Tribune showed that it struggled in particular to capture a female readership and it attempted to address this in two stages. The first, in 2009, saw the introduction of a full-colour glossy magazine, but this was later abandoned as it was too costly to produce and failed to attract a significant new readership.
In September 2010, the Tribune was completely redesigned to a smaller tabloid format with appearance and content described as more lively and contemporary. A prior redesign won a European award and the new tabloid format was equally impressive. The Tribune stood apart from rival broadsheets on newspaper stands. Widely advertised, it saw an immediate boost in sales of 10 to 15 per cent according to Noirin Hegarty. The increase in sales was short-lived however, and sales declined again a month or two after the redesign. Though arguably, not enough time has been given for the new format to make an impact. 
Lifeline sought
Speaking on RTE radio yesterday, the paper's editor, Noirin Hegarty, said a decision will be taken today (Wednesday) by the receivers on whether the paper would publish this coming Sunday. The newspaper has secured funding to the end of February to pay salaries.
Staff of the newspaper stressed yesterday that they were still working, in a series of tweets from journalists such as sports editor Malachy Clerkin and columnist Una Mulally. The newspaper employs 43 staff and some contract production staff.
"In the current environment, we need more funding to continue," Noirin Hegarty said. "It remains hopeful that new investors will emerge."
Should the Sunday Tribune depart, this leaves the Irish consumer still with a wide choice of print on Sundays: the Sunday Independent, the Sunday Times, the Irish Mail on Sunday, the Sunday Business Post, and market leader the Sunday World, which sells around 260,000 copies a week across the island.
More on the Sunday Tribune: