Should News Corp be allowed to buy out Sky?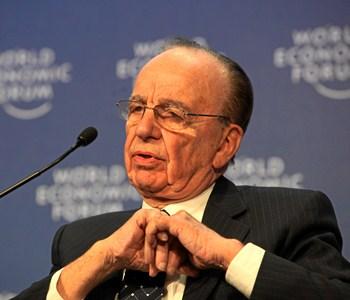 Controversy over the proposed buyout of Sky by Rupert Murdoch's NewsCorp continues. The British politician responsible for taking a decision on the matter, Culture Secretary Jeremy Hunt, is agonising his way towards a decision. But all he really decides is whether to refer the bid to the Competition Commission, which could recommend refusal on the grounds that News Corp already has too much influence on public opinion in the UK. By Angela Long
News Corp is a massive global media proprietor with newspapers, film studios, broadcasters, books and magazines under its logo. It already owns four national newspapers in Britain – The Sun, News of the World, The Times and The Sunday Times – with a combined circulation of around 7 million. Taking the industry rule of thumb that three to five people read one copy of a newspaper, these titles penetrate the minds of at least 20 million people. That excludes website readers (though they are fewer these days).
Chief executive of News Corp, Rupert Murdoch, is reported to have cancelled or delayed his attendance at the Davos Economic Forum in Switzerland so he can persuade people in London on the merits of his bid. Mr Murdoch senior is apparently prepared to offer 'guarantees' of Sky News 'independence' and how robust free thought would distinguish its output.
News Corp owns 39 per cent of Sky. Last autumn the company proposed a buyout of the remaining 60.1 per cent, valuing the broadcaster around stg£12 billion. The ongoing saga has been spiced up with the satellite broadcaster's announcement today of six-month profit figures – up 26 per cent to £520 million (€603 m). BskyB said this week it has already spent £7 million in fees on legal and commercial advice for the bid, which was launched in June 2010.
On January 25 Ofcom, Britain's broadcasting regulator, released its progress report on the bid. This was a classic of the 'on the one hand, but on the other hand' reasoning, and failed to give Mr Hunt much support for a decision.
A quote from the report gives the flavour: "The proposed acquisition may be expected to operate against the public interest since there may not be a sufficient plurality of persons with control of media enterprises providing news and current affairs to UK-wide cross-media audiences."
The battle for total control of Sky has already embarrassed one senior Minister – Liberal Democrat Vince Cable. The Business Secretary, he formerly had responsibility for the decision to sanction the takeover. But after he was caught in a sting operation telling 'constituents' that he had 'declared war' on News Corp, he was forced to relinquish that power, which was re-assigned to the Culture Secretary.
BBC Economics Editor Robert Peston notes:
"News Corporation has a couple of weeks or so to come up with a scheme to overcome the objection raised by Ofcom that the full takeover of BSkyB would reduce the number of providers of news and current affairs services to an unacceptable extent."
For his full take on the situation, click here.
The Murdoch family has been campaigning against the BBC's dominant 'market' position in Britain – although it is a public service broadcaster. News Corp might well contend that the BBC speaks with a forked tongue and is only interested in maintaining its dominant audience share. The BBC enjoys around 34 per cent of the television audience, and 57 per cent of radio, against News Corp's 22 per cent for its platforms.
But it is the online presence which is the new and bitter battlefield. Murdoch erected paywalls around his newspapers, arguably throwing more serious readers back on the free BBC sites.
BSkyB, British Sky Broadcasting, was formed 21 years ago when Murdoch's Sky merged with its smaller rival, British Satellite Broadcasting, in what was then a tiny and unstable market.
Click here for background from Associated Press.