RTE to spend over €200,000 on Storyland competition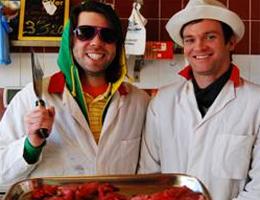 Today, the five finalists in RTE's 'Storyland 2' competition showcase the first episode in their series of     film shorts. The webisodes are screened exclusively on the RTE Storyland website. Each of the finalists has a dedicated page on the site, including blogs, details of the cast, crew and characters, image galleries and links to social media.
Originially Storyboard 2 had six finalists too, but one finalist dropped out, so voting will not now commence until Round 2, on 5 February.  Voting is open for one week and the team with the lowest number of votes at the end of each round is eliminated.
RTE provides €10,000 per round to every team remaining in the competition. The film-makers shoot a seven minute film, and film production cannot exceed this budget.  Film-makers are on a strict deadline for submission of entries, with late entries being disqualified.
No prize money is awarded to the eventual winner, but the kudos among the Irish film community is invaluable to would-be film-makers, so Politico is told. It has been suggested to Politico that RTE are likely to commission a TV series from the winning team.  Last year's winner 'Hardy Bucks' made 10 webisodes in all and has had continued success since Storyland.
The competition is as much a battle of publicity as film production. 
Particpants have created Twitter and Youtube accounts, and "in character" Facebook pages such as Enda the Butcher, of 'Butchers'  – which looks set to steal a march on the other teams. Rivalry is fierce and and last year's Storyboard fell foul of some unbecoming conduct.  Some film makers  allegedly exceeded their budgets, and illicit 'viral' voting supposedly favoured certain particpants. RTE is said to have addressed these issues in Storyland 2.
With five rounds of voting, RTE will spend at least €200,000 funding the participants. The overall cost of the competition will be higher when the resources required to manage the competition are included.
RTE is tweeting news of the competition under the hashtag  #storyland
Timetable for episodes
29 January – Episode 1 is shown – No voting
5 February– Episode 2 is shown – Voting begins
12 February – Voting closes – The lowest polling project is out of the competition, four projects are commissioned for an additional round.
Late February  – Episode 3 is shown – Voting begins again, another project is dropped a week later and 3 projects go on to the next round.
Late March – Episode 4 – The cycle continues anew
Late April – Episode 5 – Only two remain – The voting now is to decide the winner. Who is commissioned to make episode 6
Late May – The winning project is shown