RTE revels in 'gangland' parlance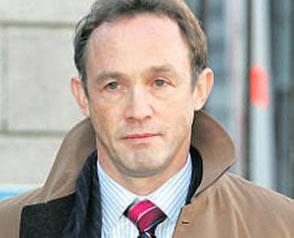 The National Recovery Plan dominated RTE's Nine News on Wednesday evening with 22 minutes of coverage and analysis. The following news item reported the murder of two young cousins, Mark Noonan (23) and Glen Murphy (19), in Dublin the previous night.
News anchor Ann Doyle introduced the item, reporting that "neither victim is thought to have been involved in serious crime". The studio cut to RTE's crime reporter Paul Reynolds at the crime scene. In his first sentence, Reynolds termed the killing a "gangland murder". He said: "The bodies of the victims of the country's latest gangland murder were removed just before midday today from the forecourt of the Tesco Clearwater petrol station in Clearwater, Finglas where they were shot dead last night."
Reynolds described in detail how the men were shot several times before contradicting his initial "gangland" description. He said the victims were not thought by Gardai to be involved with "any major criminal gang or serious organised crime". Gardai struggled to find a motive for the killing, he said. An article in the Irish Independent supported the contention that the men "had no known links to gangland crime".
Morning Ireland also ran the story as the first news item on Wednesday morning. Conor Feehan of the Evening Herald also described the killings as "Dublin's latest gangland killings" in his opening sentence. RTE's Aoife Kavanagh asked Feehan if there was any doubt that this was "definitely a gangland murder". Feighan replied: "The Herald understands that this is another gangland slaying... we would be assuming that some investigation that this may be going into the ongoing gang feud". However, he then said "the investigation is wide open", contradicting his initial assured statement.
Gun killings are perhaps the best indication of 'gangland' murders in Ireland. An academic study by Dr Liz Campbell published in the British Journal of Criminology in May 2010 showed that as a proportion of total Irish murders and manslaughters, gun killings rose from 7.8 per cent in 1998 to 38.2 per cent in 2008. However, this overstates the picture as total murders/manslaughters fell by 35% in 2008 (from 85 in 2007 to 55 in 2008). In truth, gun murders increased from 4 in 1998 to 21 in 2005 and have stabilised at around this figure since. Indeed, half-year figures for 2010 suggest an 18 per cent decrease in murder and manslaughter.
Despite this steady figure, media outlets stigmatise and sensationalise gangland with terms like "spate of killings", "killing sprees" and "gangland blackspots". Indeed, the abstract of Liz Campbell's study refers to "hyperbolic popular commentary" on gun crime. Crime correspondents like Conor Feehan and Paul Reynolds infuse their reports with this language. A paper written by Reynolds for the Ceifin Centre some years ago mentions the word "gang" 17 times in 10 pages. "Today [crime is] all about the gang; drugs, murder, armed robbery, tiger kidnapping," he wrote.
"Known to Gardai" and "organised crime" are other pet phrases of crime reporters. Reynolds described the victims as being "known to Gardai" for petty crime. Just as "gangland", this phrase arouses suspicion of sinister dealings on the part of the victims. Almost exclusively, it seems, this language is used in reporting certain types of crime. "Organised crime" is never used to describe insider trading and dubious accountancy practices such as billions of transfers to prop up bank balance sheets. When Sean Fitzpatrick was taken into custody for Garda questioning, it was not reported that he was "known to Gardai". When five Dublin councillors were charged with corrupt planning this year, reporters did not say that the men involved were "known to Gardai". Nor are priests convicted of abusing children reported as "known to Gardai".
The purpose of Liz Campbell's research was to put forward "profitable and persuasive" means of addressing violent crime other than the "misguided practices" currently pursued by Dermot Ahern and the Department of Justice. Cambpell says that this can be achieved "by focusing on social deprivation and the expression of masculinity". Specifically, she says that putting more gardai on the streets in neglected and disadvantaged areas, and investing in education are key measures "to keeping at-risk young men away from drugs and taking them out of poverty".
Generally, there is a failure in crime reportage to give due consideration to the social conditions that underpin anti-social behaviour. Instead, people are stigmatised by sensational language used in news reports, and by association with certain areas or socio-economic conditions. And surely such language adds to the hurt felt by victims' devastated families.
Paul Reynolds is aware of the conditions that lead to social breakdown and crime. In the paper he wrote for CEIFN, he concluded thus:
"It seems to me that if you tackle the problems of poverty, disadvantage, and marginalisation and in particular the lack of education and opportunity, you could go a long way towards putting people like me out of a job."
This observation is supported by Liz Cambpell's recent study. Reynolds is highly regarded in journalism circles. He won Political and Current Affairs Journalist of The Year in 2009. Were he to summarise determining  social factors to crime more often, greater emphasis would be placed on holding accountable those institutions responsible for rectifying social problems that were created through years of neglect.
Gardai identified two cars involved in the above incident. A dark grey Toyota Avensis (reg no 05 D 86211) and a BMW with a 06 D registration plate. They asked that people with information on these cars or the murders contact the incident room at Finglas garda station, on 01 6667532, or the confidential line, 1800 666111.