RTE faces backlash over bailout conference coverage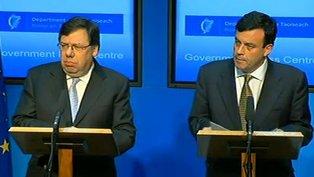 Social networking site Twitter lit up with complaints last night over RTE's coverage of the press conference at Government Buildings where Taoiseach Brian Cowen announced that Ireland's application for financial aid had been approved by the EU. 
[Video: Vincent Browne questions Brian Cowen at Sunday's press conference]
The controversy arose first as RTE did not broadcast sufficient advance notice of the coverage and later when the coverage was cut short as Vincent Browne questioned the Taoiseach on the amount of debt the country would have in a year's time, and the level of responsibility for the Irish economy being ceded to the IMF and the EU. Mr Browne also asked Brian Cowen whether he felt personally culpable for "screwing up the country". Both BBC and Sky News continued to broadcast while the RTE coverage returned to studio with analysis by finance reporter David Murphy.
Twitter users described the coverage as "shambolic and disgraceful" with some tweeting that viewers should protest by switching over to the special edition of Tonight with Vincent Browne on TV3 instead of watching The Week in Politics on RTE One.
TV3 was overwhelmed by callers complaining about the incident while RTE's complaints line was closed. Tweeters encouraged readers to send complaints to the Broadcasting Authority of Ireland (complaints@bai.ie) and RTE (complaints@rte.ie). Broadcaster Matt Cooper tweeted that he would interview an RTE spokesperson on the editorial decision to cut the live coverage and return to studio.
Within minutes of the incident a number of Facebook groups had emerged. The most popular, entitled 'That awkward moment when RTE stops broadcasting an important event', had over 700 members within hours. The title of another group reads 'RTE should serve the people and not Fianna Fáil'.
Cartoonist Alan Moloney took a humourous approach to the incident on his website.
By 10.30pm RTE had realised the error and uploaded the full video of the press conference to its website. According to some Twitter users it was "too little, too late".
Newstalk's Seán Moncrieff tweeted that the incident should not overshadow the real story saying, "Yes, RTE f**ked it up tonight – but let's remember who we should reserve our anger for..."