Making sense of the noise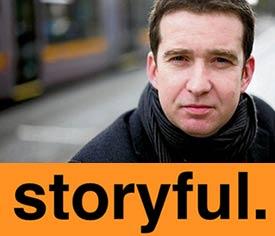 Mark Little, the RTE presenter who took a year's leave of absence to set up a new online news service, is not planning to return to the national broadcaster before the general election.
Mr Little guested on Marian Finucane's weekend programme in mid-January, detailing some of the big international stories of that week, such as Tony Blair's second appearance at the Chilcot (Iraq) inquiry. However he told Politico that this did not indicate he was preparing a re-entry to RTE, and he has also done similar slots on Newstalk.
Mark Little's new venture is called Storyful. It's a website containing film, audio and reports of big breaking news stories such as the uprising in Egypt this week.
Mark Little describes Storyful as "the first news agency designed for the social media age". Reporters for the website draw on verifiable information disseminated through social media websites Twitter, Youtube and Facebook.
Although he told the Media 2020 conference last April that he was not a fan of 'news' as such, the stories presented on Storyful are mostly current affairs. Storyful is currently in its 'beta' stage of development and visitors are invited to give feedback in order to shape the website's development. Next month, Mr Little anticipates that more innovative features will turn the site into a fully "collaborative storytelling community".
Storyful is one of the first determined and professional attempts to put manners on citizen journalism. Indeed, in Mark Little's own words, Storyful "makes sense of the noise" by combining professional media with information breaking through social media channels. The concept draws on the vast number of sources and correspondents that the internet permits. Stories or headlines on Storyful today (January 31) also linked to professional news sites such as Sky.com, the BBC, and world newspapers such as the Straits Times of Singapore.
Although the site has been visible since summer 2010, Little, in a Tweet, said that 22 November 2010 marked Storyful's "first full week curating world news".
A former Washington correspondent and Prime Time presenter, Little says he will not be talking to RTE about his leave for another month, and will having nothing further for the record until the end of February. The Sunday Tribune recently suggested he might seek another year of leave from RTE, as his first year of leave expired at the end of 2010.
Little would not be drawn on clients or customers who might take the Storyful service when it becomes fully operational. At the Media Futures conference, delegates speculated on how the venture would make money. Little did not elucidate, although 'brokerage' was mentioned, and he would not confirm any names that have been rumoured to be interested in the Storyful product.
On the Marian Finucane show in January, Mr Little said he spent time in the United States selling Storyful services. "Any speculation on who [customers might be] would be misplaced," Little wrote in an email to Politico.
Storyful's Dublin offices are at the National College of Ireland Business Incubation Centre by the IFSC in Dublin 1.