Pakistan's crisis has just begun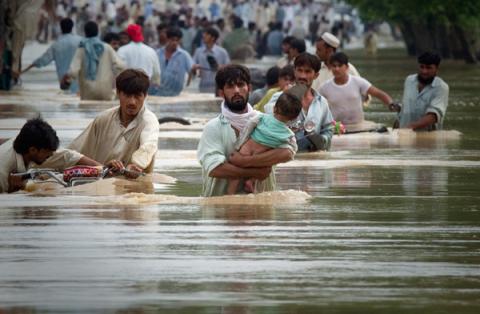 Two weeks of floods have killed 1,000 people and displaced 20 million more in Pakistan. Food and water are scarce; houses and infrastructure destroyed. In parts, flood waters continue to rise. Even where the water has abated, health crises loom. The UN says outbreaks of cholera and other water-borne diseases endemic to Pakistan could happen, as the Al Jazeera video below outlines. Over 1.5 million cases of diarrhoea are predicted. 
In the video from Medicins Sans Frontiers (MSF) below, a doctor outlines some of the medical problems he has already encountered - injury due to collapsing houses, infections due to overcrowding and hygiene. Between 100 and 120 patients are seen daily at this clinic in Charsadda. Another MSF video shows the distribution of relief goods to Afghani victims of the floods at Kamp Khorasan. 
Today, the EU committed another €30m in emergency funding, bringing the total in EU relief aid to €70m. More is needed, say analysts. 
Dr. Waheed of MSF in Charsadda:
Kamp Khorasan: