Ordinary Greeks are taking matters into their own hands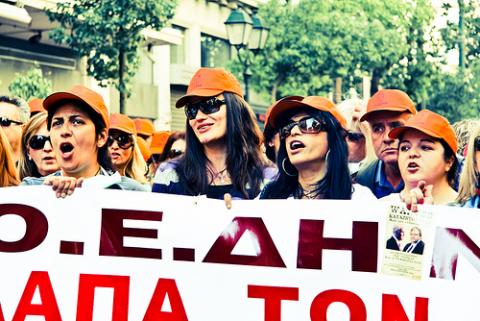 In Greece, grassroots refusal to put up with austerity is quickly gaining momentum, as people give up on mainstream politics. By Hara Kouki and Antonis Vradis.
In early October, a peculiar news item barely made its way into the back pages of Greek national press: in the northern city of Veria, a small group of people had started reconnecting the electricity supply of households disconnected from the national grid due to bill non-payment. This kind of solidarity action seemed rather abnormal.
Then again, it is difficult to define what constitutes normality in the country nowadays – the upper echelon of political power is in an unprecedented turmoil, and the entire mainstream political spectrum in the country seems to have entered a delirious state of panic.
And yet, at this precise moment, Greek people are realising they are left with what they had at the outset – that is, absolutely nothing to hope for from the mainstream political scene.
Take Yannis, a 43 year-old man working in a bank in Athens, who doesn't want to return home because it is going to be cold again. The heating will be off, as nobody in the block can afford the heating prices. His 16-year old daughter, Sophia, does not want to go to school, as she finds little meaning in preparing for her exams: why would she want to enter university knowing full well she will never find a job in Greece, anyway? Or take Eleftheria's father, a 72-year old pensioner leaving in the village of Kymi, who called her today while she was returning home and hesitantly asked her for money to buy his medicine that the state fund no longer covers for. His pension was recently cut by 50%. "But, please," he pleaded, "do not tell your mother." Back in the city, Eleftheria's streets are lined with garbage which has been lying there for more than three weeks.
Thousands of workers are to be put on reduced pay schemes across the country and hundreds are being fired on a daily basis. The government has raised already existing taxes and introduced a variety of new ones across the board, while slashing salaries and pensions in both the public and private sector. Official unemployment rose by more than 35% year-to-year and now stands at just under 20%; homelessness has enormously increased across the country, while tax on food consumption has shot up from 13 to 23%. At the same time, public transport is being dismantled and hospitals across the country barely function. For the first time, there were no books to be distributed in public schools and universities are in utter disarray. The "bloated" public sector has been portrayed as responsible for all the misery the country has to endure. At the same time, social services have been intentionally abandoned, making it easier for enraged citizens to accept the privatisation of the public sector in return.
People here feel the country is gradually sinking, carrying them down a path dug in arbitrariness and injustice. Yet at this very moment – when it is not only the rules of the game that are challenged but the game itself – they seem to feel empowered to act in ways that would not have appeared feasible in the past: they physically attack politicians, mock and cancel military-inspired national public parades and humiliate army officials attending them, participate in neighbourhood assemblies and mass demonstrations (irrespective of the amount of tear gas thrown against them by the police), create grassroots trade unions to demand their labour rights, occupy workplaces, disrupt public services and protest in violent, impulsive, unpredictable ways.
In these peculiar times, when there is nothing to lose for so many, everything becomes possible. In the northern Athens suburb of Nea Ionia, the municipality is now actively calling for locals to shun the new tax, offering instructions to avoid its payment on its official website and promising legal support and even volunteers to reconnect potentially disconnected supplies. Grassroots refusal to put up with austerity is quickly gaining momentum, regardless of everyday politics of fear and emergency, or never-ending market crashes. In return, the realisation is sinking in that a possibility for tangible change only lies in people changing their understandings, their habits, the ways in which they do politics: while asked to cast a vote, Greek society sees a major role recast.
This piece was originally published in the Guardian's Comment is Free section and is reproduced here with the authors' permission.
Image top: odysseasgr.