Lebanon tense over assassination allegations

Fragile peace could be broken in Lebanon if Hezbollah fails to convince of Israel's involvement in Hariri murder. By Malachy Browne in Beirut.
The Lebanese paramilitary group Hezbollah has implicated Israel in the 2005 assassination of then Prime Minister of Lebanon, Rafik Hariri. In a two hour press conference aired on television and radio last night, Hezbollah leader Sayyed Hassan Nasrallah outlined details of alleged Israeli espionage in Lebanon dating to 1997. It showed aerial footage allegedly intercepted by Hezbollah from Israeli reconnaissance flights outlining the route taken by Rafik Hariri on the day he was killed. Hezbollah has previously used intercepted footage in attacks on Israeli forces.
(Pictured: Hassan Nasrallah giving a press conference last night aired on Hezbollah TV station Al-Manar)
The press conference was given in response to reports that the UN's Special Tribunal for Lebanon (STL) is likely to indict members of Hezbollah in Hariri's assassination. Hezbollah refutes any involvement in the killing and last night asked Lebanon's unity government to begin a separate investigation into the assassination. It said the STL is politicised and is serving Israeli ends. A statement to this effect was also made by the current Prime Minister of Lebanon, Saad Hariri, son of the murdered premier. However, it is reported that this latter statement was politically motivated in an attempt to prevent sectarian conflict. The leaders of Lebanon, Saudi Arabia and Syria also met recently in an attempt to deflect the possibility of violence arising from any implication of Hezbollah.
Rafik Hariri and seven of his bodyguards were assassinated on February 14, 2005 by a truck-bomb that exploded beside their motorcade. In an interview with Lebanon's The Daily Star, Middle East expert Mohammad Bazzi said that Hariri was "the most important Sunni leader in Lebanon... and that community is still grappling with his loss". Lebanese people continue to visit a shrine to the Sunni premier and his bodyguards that was erected beside the Mohammad al Amin mosque in central Beirut (pictured).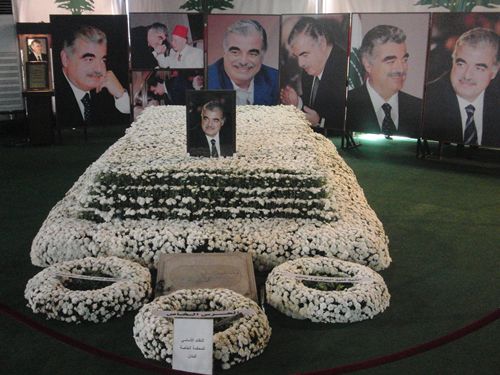 Charging members of Hezbollah with Hariri's death would almost certainly ignite violence in an already tense Lebanon. Hariri may be forced to defend his father's death, and Hezbollah will almost certainly refuse to hand over members indicted in the assassination.
The Lebanese Armed Forces are widespread on Beirut's streets, but Hezbollah remains the strongest military force in Lebanon. In 2008, the government attempted to disable the group's underground optic-fibre network. Hezbollah dispatched militiamen to the Sunni West Beirut, routing the LAF and forcing the government to overturn the order in days. Following the July-August 2006 conflict between Israel and Lebanon, the United Nations Resolution 1701 ruled that Hezbollah be disarmed. But both the UN and the Lebanese government have since said that they will not disarm the group.
Across Beirut, people watched and listened attentively to last night's conference. Taxi drivers listened on the radio and people watched on portable televisions in their homes and by the side of the street. Hezbollah and the Lebanese media had publicised the broadcast heavily. 'Proof' of Israeli involvement in the assassination was promised. Moderate Lebanese hoped that it would be given. But by Nasrallah's own admission, the information presented last night "isn't definitive proof". He said that Hezbollah was unable to decrypt some transmissions, and "Just because we don't have footage, it doesn't mean the Israeli's didn't take pictures of it".