'Instead of a disaster zone, Gaza could be paradise'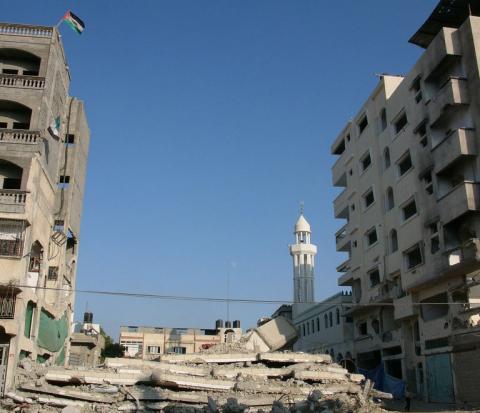 Socialist Party MEP Paul Murphy arrived in Gaza yesterday as part of a delegation of parliamentarians and others to view the effect the Israeli siege is having on life there. We'll be publishing daily updates on his trip over the coming week.
Day 1: Finally in Gaza!
On my third attempt, I have finally reached Gaza. My first attempt, during the summer, was thwarted by the Israeli sabotage of the Irish ship to Gaza and then the Greek extension of the Israeli siege. My second attempt came to an end just over a week ago, when I spent seven days in an Israeli prison after reaching 45 miles from the Gaza coast before the Freedom Waves flotilla was violently assaulted and boarded by Israeli soldiers. Having failed twice by sea, when the opportunity came to visit Gaza this week over land as part of a delegation of parliamentarians and NGOs organised by the Council for European Palestinian Relations, I had to seize it.
After leaving the Socialist Party Conference in Cavan on Sunday morning, I flew to Istanbul, before transferring to Cairo, arriving at around 2.30am. I arrived at the hotel at 3.30am, and was only shortly to bed by the time my pre-arranged wake up call arrived – at 5am! After a quick breakfast, it was onto the coaches and we were en route to Gaza. The promised five hour bus journey to Rafah crossing turned out to be more like eight hours. A heavy Egyptian military presence was evident all the way up to Rafah. When we reached the Rafah crossing, another long wait began.
The participants, many of whom have participated in previous crossings, shared stories about the long waits and denials that they had experienced in the past at Rafah. Although the crossing has opened up somewhat now, since the revolution, it is still a very far from an open border, and it is extremely difficult for people to travel through. After a three hour wait, however, we got the all-clear and boarded the bus that would bring us across the border.
When we crossed the border into Gaza, a tiny strip of land that is an open-air prison camp for its 1.6 million inhabitants, it was an emotional moment. For many of the Palestinian participants in the delegation, this is the first time in a long time that they have been able to return home. We were met with a large welcoming committee from the Palestinian Legislative Council, as well as hordes of media filming us arriving.
After hand-shaking, welcomes and a quick press conference, we boarded the buses and drove to Gaza city. Unfortunately, the dark meant that it was very hard to get a proper sense of the place. After we made it to our hotel after dinner, however, I met up with an old friend who is now working with an NGO in Gaza. We went for a quick walk around the block and to a coffee shop.
In that ten minute walk the devastating effect of the regular Israeli bombings were clear. Row after row of big buildings are interrupted by an empty space and a mound of rubble – another victim of "Operation Cast Lead" or a more recent bombing. The last month has seen an increase in very regular Israeli bombings in the middle of the night.
The other striking feature in this relatively affluent part of Gaza is the obvious poverty. What involuntarily came to mind was a debate I had at the time of the summer's flotilla on Newstalk with an Israeli spokesperson. He had tried to claim that because of the economic crisis in Ireland, living standards were equivalent in Ireland and Gaza. What a blatant and barefaced lie! My friend showed me one of the supermarkets that are pointed to by the Israeli regime as being evidence of the good living standards in Gaza – even this, supposedly luxurious supermarket, was basic enough. And it was clearly the exception to the rule.
Thankfully, there were no bombings last night and so after an uninterrupted sleep, I woke up to a view of a beautiful beach outside my bedroom window. You can easily see how, instead of being a humanitarian disaster zone, this could be paradise.
Image top: excauboi.