Greece begins 48-hour general strike: In pictures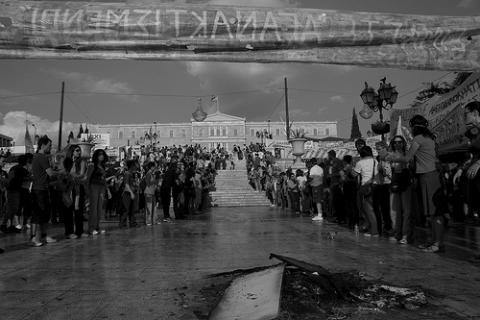 Mass protests and a 48-hour general strike began in Greece yesterday as the Greek parliament prepared to vote on a €28bn austerity package for the country. The parliament is expected to finish debating the bill today around lunchtime, with the vote taking place soon after. 
According to the Guardian, the measures being voted on include:
A solidarity levy: At 1% for those earning between €12,000 (£10,800) and €20,000 a year, 2% for incomes between €20,000 and €50,000, 3% for those on €50,000 to €100,000, and 4% for those earning €100,000 or more. Lawmakers and public office holders will pay a 5% rate.
A lower tax-free threshold: People will now pay tax on income over €8,000 a year, down from €12,000. This basic rate of tax will be set at 10%, with exemptions for those under 30, over 65, and the disabled.
Sales tax: The VAT rate for restaurants and bars is being hiked from 13% to the new top rate of 23%. This rate already covers many products in the shops, including clothing, alcohol, electronics goods and some professional services.
Wealth taxes: Tougher luxury levies will be introduced on yachts, cars and swimming pools, along with higher property taxes.
The changes should bring in an extra €2.32bn this year, rising to €3.38bn in 2012, €152m in 2013 and €699m in 2014.
In addition, the Greek government has pledged to combat tax evasion, which it believes will bring in an extra €1.15bn by 2015. Some legal tax exemptions are also being closed.
Spending cuts
Public sector wages: Salaries will be reduced by 15%.
The public sector wage bill: The goal is to cut 150,000 public sector jobs, through a hiring freeze and abolition of all temporary contracts. This should cut the total bill by €2bn by 2015.
Social benefits and pensions: The retirement age is being raised to 65. Increased means testing, and cuts to some benefits, will reduce the total amount spend on benefits by €1.09bn in 2011, then €1.28bn in 2012, €1.03bn in 2013, €1.01bn in 2014 and €700m in 2015.
Spending cuts: Many government department budgets are being reduced. This includes a €200m reduction in Greek defence spending next year, increased to €333m a year from 2013. Pharmaceutical prices are also being reduced, to cut health spending by €310m this year.
Social contributions: The rate on  Greece's equivalent of national insurance will be increased, and there will also be a new crackdown on contribution evasion and undeclared workers.
Public investment: Spending on new infrastructure projects will be reduced by €850m.
Privatisations
Stakes in various state assets will be placed on the auction block, in an effort to raise €50bn over the next four years.
2011: The process has already begun, with the sale of a 10% stake in Hellenic Telecom to Deutsche Bank for €400m. Two port operators, Piraeus Port and Thessaloniki Port, will also be partially privatised. Stakes in betting monopoly OPAP, the lender Hellenic Postbank and Thessaloniki Water are also scheduled for sale.
2012: The pace picks up, with €10bn of assets earmarked. This includes stakes in Athens Water, refiner Hellenic Petroleum, electricity utility PPC, lender ATEbank. A wide range of other state assets will also be sold – assuming buyers can be found – from mining rights to airports. The austerity programme also states that €7bn will be raised in 2013, €13bn in 2014 and €15bn in 2015.
View a slideshow from day one of the strike below. Live coverage of the protests can be viewed here.