Exiled Syrians financially supported by France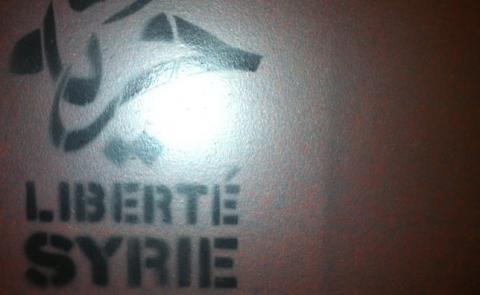 Syrian activists who fear for their safety at home have left Syria for Paris in recent months. Malachy Browne met five of them in Paris. (Video below)
Alawite, Kurd, Druze, Circassian and Sunni: the group I meet in Paris represents a cross-section of Syrian society, united in a vision of Syria freed of the Assad regime. They are among a swathe of Syrians once involved in anti-regime demonstrations, now living in Paris. These five organised and reported on the early demonstrations in Damascus held in March 2011 against Bashar Al Assad and Baath Party rule. Three of them say they were detained and mistreated by security forces at various stages in the past three months. As with many other activists and journalists, four of this group left Syria because it was no longer safe for them to remain. Each of those who departed did so through Jordan, travelling from Amman to Paris, where they are now supported by the French government through 'scholarships'. They share accommodation in what they call journalist houses.
Two of the journalists I met through a European news organisation that held a workshop on the Syrian conflict. Later that evening we met Syrian colleagues for dinner in L'Agate, a Syrian restaurant in the Paris district of Strasbourg St Denis.
"Liberté Syrie" is inscribed in black spray paint on L'Agate's brown metal facade. Our street terrace table stands opposite this aspirational slogan. To my left is Assam. A white iPhone rests on his pack of red Marlboro, updating furiously with Skype messages. Speaking in Arabic, Assam relays news that regime forces are again shelling Qatana, a hamlet to the west of Damascus toward the Lebanese border.
A reticent, soft-spoken man in his mid-twenties, Assam was central to the organisation of initial protests in Damascus in 2011. He coordinated the offline effort, meeting fellow demonstrators in person, passing on plans for the next demonstration. It was not always possible for activists to be online, he says. Knowing that security forces would identify them at protests, activists kept cover as best they could. While some could interact online, others were often without phone and internet connections.
Two of the others at the table, Rudi and Nabat, worked with Assam in March 2011. "Early on, we realised that we had to do two things," Rudi says, tapping his left temple. "Change minds of Syrians and use media to show what is really happening".
Communications with Arabic newsrooms was arranged by Nabat, a former journalist whose phusical features betray his Syrian nationality. One of an estimated 100,000 Circassians in Syria, Nabat's ancestors travelled from the North Caucuses to Syria in the nineteenth century. His freelance reporting before the revolution gave Nabat access to Al Arabiya Arabic and Al Jazeera Arabic. He purchased a satellite phone to securely telephone reports and he organised a system allowing video activists to share footage directly with newsrooms.
Rudi was one of those was one of those video activists. He filmed protests in Damascus and tells how he had to throw away equipment when security forces dispersed protestors.
Like many activists, Rudi is a prolific user of social media, integral to organising demonstrations and discreet communications. Activists use private groups on Facebook, which they access through "darknet" browsers like Tor; these cloak IP addresses and make it more difficult for online activity to be traced.
Rudi speaks enthusiastically of the early demonstrations. "Even in the mosque we didn't believe we would do it. Even on the street outside we didn't believe we would begin". He describes protesting in the narrow streets of obscure Damascene suburbs, before then moving to more public places like the Tunisian and Egyptian embassies; the North African Arab revolutions inspired Syrian efforts.
"We knew we would become targets," he says. "We knew we would demonstrate and [security forces] would come." He was detained on three occasions, once for a period of three months. His most recent detention was in 2012 and lasted 12 days - he managed to hide his identity using a fake identification card. Upon his release Rudi's family forced him to leave Syria; his home was regularly staked-out by security forces, he says, and Damascus was no longer a safe place for him. A local brigade of the Free Syria Army helped him to cross the Jordanian border to a refugee camp inside Jordan.
He was shocked by the conditions: "People were sleeping without shelter, without sheets." He filmed conditions at the camp and sent it to the UNHCR who are operating there. Jordanian authorities discovered he was filming in the camp. "They gave me a week to move or they would hand me back to Assad," he says. The ultimatum led him to Paris where he knew Assam and his colleague Ahmed. They also crossed the Jordanian border with help from rebel fighters, travelling from Amman to Paris.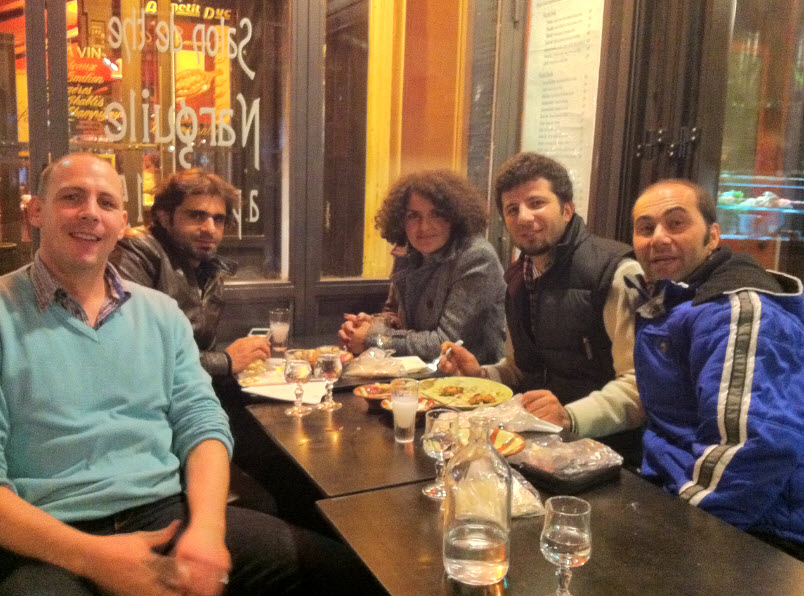 "Everyone is a target in Syria, in the opposition or not," says Ahmed. "My ex-wife and daughter are now in Lebanon, my father in Malaysia, my sister is also out of Syria." He initially intended to travel to the United States, but a problem with his visa meant he had to travel to Paris. "I can do more from here anyway," he says. The French administration gives him a scholarship to do humanitarian work.
Nabat later followed this group to Paris where he now lives in a "journalist house" with other Syrians. Nabat is credited by the group as being a tech wizard. His reasons for leaving mirror Rudi's: he was detained for 32 days and no longer felt safe in Damascus.
None of the men wished to speak about their experiences in detention. "The stories that you see on video," Rudi says. "This is ten per cent of what happens. I did not believe the stories until I saw it with my own eyes."
Nabat tells a story of two brothers stopped by security forces at a checkpoint in Damascus. One aged 20, the other 35, the brothers were forced to strip naked in public view. The younger brother was instructed to attack his older brother. When he refused, he was electrocuted. When he refused a second time, he and his brother were electrocuted. The older of the two relented. As he approached his younger brother, tears streaming down their faces, he said: "Remember, this is only because I want you to live."
Why do more people not rise up against the regime? "Because they are afraid," Rula says. "They are afraid of what will happen to them, they are afraid of shooting other Syrians, they are afraid of not knowing what the outcome will be. And some of them believe what the regime tells them." Indeed, fear is a common theme of the conversations documented in Irish journalist Stephen Starr's recent account of Syria.
A car stops outside the restaurant. The restaurateur greets the driver and Nabat helps them to carry four large cardboard boxes inside. "Clothes for the refugees," Rudi explains.
Rudi says that when the Syrian revolution ends, it will be seen in history as one of the great battles of the century. "Greater than in Europe, because the people continued to rise up in the face of extreme brutality for a new regime."
We connect on Skype and Facebook before leaving company. "See you again in free Syria."
*** Video below ***
Malachy reports on the Syrian uprising for Storyful.com. Read Storyful's stories on Syria here. Below, a montage of videos of the Syrian uprising as it took hold in April 2011, compiled by Ed Rice of Storyful.