Cruising through Haiti's crisis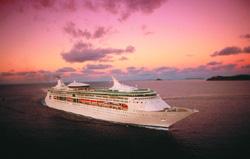 As Haiti lies in ruins it's business as usual for luxury cruise liners, which continue to arrive at the stricken island.
There are some great deals going at the moment on Caribbean cruises. I checked on Monday morning with the local Irish representative of Royal Caribbean International and was told there was a 12-night cruise out of Miami on February 12th for €1,188 per person for an interior cabin and just €1,535 for an outside one, which, let's face it, is a snip, considering. Considering this is all-in, inclusive of flights, all food, the run of the liner and sun, sun, sun all the way.
The ship is called Navigator of the Seas and the website says this about this beauty: "A cruise ship or a work of art? Once on board, we think you'll agree this cruise ship is a revolutionary masterpiece if ever there was one. Not only does it sail effortlessly through the waters of the Caribbean, it contains some of the cruise industry's most amazing features – a rock-climbing wall, a basketball court, an ice skating rink and an in-line skating track. Dare we say there's more? What about a five-storey theatre, a casino, a miniature golf course and a spectacular three-storey dining room? This 138,000-ton nautical wonder has it all."
See what I mean?
This piece of nautical magnificence has 1,185 crew and occupancy of 3,114. It goes out of Miami (the American Riviera) on February 12th and calls on some of the most wondrous places in that part of the world, all in just 12 days. Staring with, you guessed it, Grand Cayman. Grand Cayman of fond memories. Remember Des Traynor, John Furze and the Ansbacher boys? What a hoot!
On then to Costa Rica, Panama (you'll be able to register a few limited companies there on the stop-over, no questions asked!), Colombia (another place to stock up nicely with the pleasures of our age!) and on to a delightful place called Labadee, a private resort exclusive to the clients of Royal Caribbean, with truckloads of burly security guards to keep the natives at bay. Just read what the website says about this little piece of real estate: "You can enjoy the pristine beaches and turquoise waters, or join in with some of the activities on offer – snorkelling, sailing, kayaking and beach volleyball. There are ruins to explore, and local arts and crafts to buy. This is the place Columbus chose to take a rest from his discoveries, and who can blame him?"
Actually there are more ruins there at the moment than ever before, which might be a bit of a downer, for Labadee is in Haiti and, let's face it, at this time that could be a bit of bother.
The Navigator of the Seas stopped off there last week and the 3,000-odd voyagers enjoyed the pristine beaches and turquoise waters, did their bit of snorkelling, sailing, kayaking, beach volleyball, exploring the ruins and viewing the local arts and crafts. And, for the record, Royal Caribbean donated surplus sun loungers to a makeshift hospital in a gym nearby. Instead of a smidgen of gratitude, all they got was grief. After all, they were boosting the local economy and, if Haiti needs anything now more than anything else it needs stimulus. Along with, of course, some medicines, water, food and homes.
The Navigator of the Seas was the second cruise liner to arrive since the earthquake and a few more are expected this week. They come in to a private dock, which was unaffected by the earthquake. This is very handy because the dock at Port-au-Prince was shattered and aid supplies have been held up while the port is being repaired. Anyway, according to the company, US coast guards have assessed the jetty and decided it could not be used for cargo ships, just in case your high dudgeon was emoting.
The usual pinko suspects are possibly ruminating as to why these cruise liners aren't appropriated to accommodate the wounded from the earthquake. What do you think that would do to the cruise business worldwide? If people thought their ocean palaces were prone to be hijacked as a consequence of whatever inconvenience emerged anywhere on the globe, would anyone book a cruise holiday? And where does that stop?
We can do without knee-jerk reactions; there has to be a balanced response to these events. Sure our hearts go out to the people who have died and been injured in these disasters. And especially the children. Wouldn't you weep for those little children we have seen on our television screens and, thank God, some of them have been rescued.
But look at the bigger picture. There is the world economy to bear in mind and the incentives, on which the vigour of the world economy depends. If that is to be sapped by every so-called emergency, there will be no world economy. Bleeding hearts bleed enterprise. Just as the exigencies of the Irish economic crisis demanded we pare back on welfare and bankroll the banks, so that the engine of entrepreneurship be energised again, so too must our response be moderated to these humanitarian occurrences or whatever you call them. And you'd have to admire the Obama administration in the US, which has resisted pressure to open the doors of America to the tired, the poor, the huddled masses of Haiti.
Everything in proportion and remember the bigger picture.
Now. Who's for the cruise?