Conservatives win first refusal in Lib Dem coalition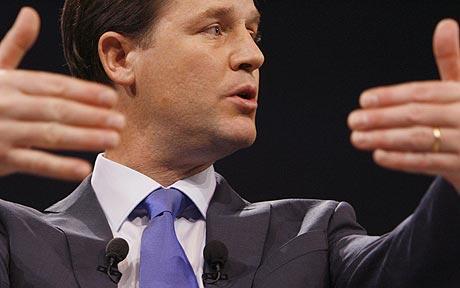 Nick Clegg and the Liberal Democrats have lost seats in this general election and remain Britian's third-ranked political party. But with a hung-parliament, Clegg alone will choose the design of the next British parliament. By Malachy Browne.
Results indicate that no party will win the 326 seats required for an overall majority in the British general election. At the time of writing, the Conservative Party won the most number of seats at 292. Labour returned 251 MPs, the Liberal Democrats returned 52 MPs and 27 seats were won by other parties.
Nick Clegg this morning reasserted his belief that the party with the most votes "has the first right to try to seek to govern". This, effectively, is an invitation to the Conservative Party led by David Cameron to make a coalition offer.
However, Clegg also indicated that his promise to change Britain's electoral system must form a part of any coalition. He said that yesterday's election clearly shows that Britain's first past the post system is "broken" and does not "reflect the hopes and aspirations" of British voters. The Conservative Party is opposed to reforming Britain's electoral system, under the belief it would lose seats in future elections were a system of proportional representation (PR) introduced.
Tory backbenchers have already said that electoral reform can form no part of negotiations with the Liberal Democrats, potentially scuppering any deal before it is made. Indeed, analysts have said that there is almost no chance of a full coalition between the parties, with a less formal arrangement the more likely outcome.
Labour Party
MP Roy Hattersley said that Nick Clegg may have put himself in a bind by offering the Conservatives first refusal in a coalition. Hattersley was quick to highlight the ideological contradictions between the Liberal Democrats and the Conservatives. He emphasised the Tories' objection to electoral reform, and Tory Euro-scepticism where Clegg wants to bring Britain "closer to Europe". Hattersley said "putting the ideas together is what counts, not putting the numbers together". On this basis, Hattersley said that Clegg would lose credibility if he were to "prop up a Tory governent".
The next Prime Minister
Meanwhile, Labour leader Gordon Brown has instructed the civil service to facilitate negotiations between the parties. Analysts say that this suggests Brown will imminently make an offer of coalition to Clegg. Should the Tories fail to agree on electoral reform, it is thought that Brown will almost certainly agree to introducing electoral reform and enter into coalition with Clegg, though possibly not as Prime Minister.
Succeeding Tony Blair mid-term as Labour leader and Prime Minister, Brown has never been elected to this position. Labour under Brown has been decidedly returned as the second choice party in this general election, which raises uncertainty around his endorsement as leader and Prime Minister. In his place, Harriot Harmon, Ed Milliband and David Milliband have be seen as possible successors.
There had been speculation that should the Lib-Dems and Labour form a coalition, the Queen would choose a Prime Minister. In his letter this morning, Brown said that choosing the next Prime Minister is a matter only for politicians.
Liberal Democrats underscore
Having returned the fewer MPs today than in 2005, and having been predicted to return substantially more, Clegg described the result as disappointing for the Liberal Democrats. Clegg fared well in the leaders' debate, and the Liberal Democrats were seen to be capitalising on disillusion with the two main parties. Analysts say that two divisive issues ran against Clegg: immigration and membership of the Euro.
As part his immigration strategy, Clegg proposed the rather sensible measure of validating the status of an estimated 1 million undocumented non-nationals living in England. Rather than ignore illegal immigrants, Clegg thought it wiser to "recognise" the presence of non-nationals living and working illegally in Britain and include them in the tax take and social system. Analysts say this was mispercieved by the public (with the help of David Cameron) as "opening the flood gates" to inward migration.
Clegg also campaigned for a Britian that is "closer to Europe" and was the only leader to speak of conceivable membership of the Euro during the debates. Analysts say that this may have worked against the Liberal Democrats in a week where riots and bailouts characterised the Euro-zone internationally.
Previous Elections
2005
Labour  356
Conservatives 198
Liberal Democrats 62
2001
Labour 413
Conservatives 166
Liberal Democrats 52
1997
Labour 418
Conservatives 165
Liberal Democrats 46