Bob Dylan: a conversation

The celebrations of the 70th birthday of the great American musician Bob Dylan include many personal journeys through the archives of memory. Here, David Hayes recalls a thrilling series of concerts Dylan performed in 1981...and a late-night encounter.
[The following article is cross-posted from OpenDemocracy.net under Creative Commons Licence.]
There is no artist who so inspires a sense of personal identification, who so enters the lives and imaginations of his followers, as Bob Dylan. Is there a single Dylan fan who has not dreamed of meeting his or her hero, thought about what to say, spun a fantasy of "real" connection? It is as if the imaginative canvas Dylan's music creates is so seductive and the figure behind it so compelling that all those affected feel drawn to go even further towards him than the music takes us (and how could that possibly be?)
No wonder then that there is an enduring appetite for the stories of those who have made it through - or even almost done so and been thwarted. The most substantial are from fellow artists who describe working collaborations, or journalists who have hit the interview jackpot; the least from fans, often composed of fleeting moments and snatched sightings in a restaurant or hotel corridor.
Perhaps the most entertaining are those encounters from outside the circle of aficionados: the policewoman who detained Dylan as he was walking in a New Jersey seaside town (near the family home of the young Bruce Springsteen), the similarly unwitting fellow tourists on a visit to John Lennon's childhood-home-turned-cultural-site in Liverpool (is there a pattern here?), the bemused resident of the north London district of Crouch End welcoming and making tea for the unfamiliar visitor who had come to the door asking for "Dave" (which happened to be her husband's name) in the mistaken belief that this was the home of the musician-producer Dave Stewart.
But if there are many more "Dylan and me" stories out there than the world ever needs, and if the music is first and last in what is important about Dylan, is there room for this one? And if so, how to tell it? These are questions, one way or another, I have been asking myself for thirty years. The song-and-dance-man's 70th birthday on 24 May 2011 seems at last - on the "if not now, when?" principle - a good moment to try to answer. So here goes.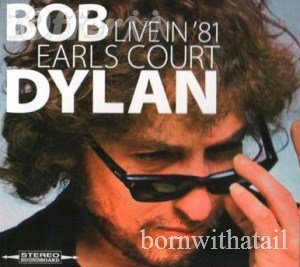 Earls Court, London, June 1981
A series of Dylan concerts across six balmy London nights, and I saw every one. The time of my life, and a mountain of vivid memories. The defiant way he sang I Believe in You, the second word of the title ringing like a mantra; the way the lights went up on the audience when he got to the chorus of Like a Rolling Stone; the word- and pitch-perfect encore of It's Alright Ma, I'm Only Bleedin'; the amazing rendition of It's Gonna Rain by the fantastic backing singers and Walk Around Heaven All Day by Carolyn Dennis; the friction with the audience when he sang his "born-again" material....
Honey, you're going to have to cut to the chase. Is this or isn't it a story about an encounter with Dylan?
It is. Eventually...
That can be an awfully long time with you, sweetheart. Some of us can get pregnant and give birth in less time than it takes you to tell a story. Can I help you along? Stevie Wonder walked by and smiled a beatific smile when you said hello, a Jesus lookalike gave you a huge "God Loves You" badge, after your famous Sunday night show a black guy jumped over two rows of seats to hug you out of sheer shared love of the music, you got angry when on the way out a white guy driving off in a big car blared Blood on the Tracks on the stereo as if to drown out what you thought was the pure beauty of what you'd just heard, someone in the audience shouted "Judas!" and others "we want Dylan!" and it fell flat as mud, Dylan teased the audience by saying "some people always want to hear the old songs....but you just ca-a-ant live in the pa-a-ast!" Five nights went by in the blink of an eye, and then - over to you!
But I have to put it in context. And that means talking about Mary
Mary. Right. Well, make it the short version. I've heard enough about this chick to last a lifetime -
It was the first night, a Friday. I had travelled down by train from Scotland, and on the way bought the just-out second edition of Michael Gray's Song and Dance Man: The Art of Bob Dylan. I arrived early at Earls Court, thinking about the first time I saw Dylan here. 1978, the tour that produced the Budokan album recorded in Japan
I know where this is going. After that show you had met some older, working-class, hard-core Dylanists at Kings Cross on the way back north who were swapping stories of mid-60s' gigs. One said he'd paid £30 for that night's ticket and another replied: "I'd pay that to see him tune his guitar". Get a move on, kid -
OK, OK. So I leaned on a wall and started reading. A small young blonde girl in jeans and a brown jacket appeared and asked me if she could look at the book. She flicked through and came to a photo of Dylan -
- looking straight at the camera, in a fetching paisley-pattern shirt. She said: "He wore that shirt in Leicester in 1965". You looked at her and saw the streaks in her hair and her make-up, reeled in the years and thought maybe she wasn't so young after all. Then she started telling you about how she'd moved to New York in the 70s to be close to Dylan.
You felt immediately out of your depth with the kind of Dylan fan you didn't know existed, yet drawn to this woman who seemed lost in her own world. But also...driven. You liked her, made friends, found out together where Dylan was staying, and on that fateful night -
Mary, which isn't her real name, was from Liverpool. I was amazed that she was travelling down each day for the concerts and going back on a night train, the sort of thing that existed in those days. We met up after that first show and went together to Euston station; I had to pick up my bag at Kings Cross. We had a cup of tea in a Wimpy bar. After an early-morning arrival she would sleep for a few hours and head back on the long trek south. I was lucky to have a friend in London with a sofa to sleep on, and a reader's ticket for the British Museum library where I planned to spend my days -
Is this a Dylan story or a Mr Pooter one? Come on! So you fell under Mary's spell, and then -
No!
Oh!
It wasn't like that. Anyway, we didn't see each other every night. No mobiles in those days, no email, everything was more contingent and...serendipitous. It was only after the first night I decided to return for the full whack, after I realised I could get tickets for free or underpriced with a mix of patience and pleading poverty. I'm a Scot, remember! On the Saturday night a guy sold me a ticket for the VIP area at cost price, and made me swear to the woman who would be next to me that I was given it for nothing. I did too, even through a fearsome interrogation. I always wondered what that was about. But it was all worth it.
After the majestic Sunday show, I walked out in a trance and down to the tube station. On the station platform, my head buzzing, I saw ahead of me two guys huddled over something that could have been a map. As I passed them I heard a tinny noise that as my ears adjusted I made out to be music. The object was a cassette recorder the size of two Penguin novels. Without thinking, I said: "Is that tonight?" It was.
Jan and Piet, as I'll call them, had come over from the Netherlands for the shows. In the vastness of London, it turned out we were staying two streets from each other. We all listened on the train, trying to connect the sound with what we had just seen. Jan explained how he smuggled in the equipment to record the gig, and told me of his travels to build his Dylan bootleg collection. Piet was a learner in process of conversion. The conversation turned to the great mid-60s' concerts and their legendary, hard-to-obtain bootlegs. I mentioned Mary and how she had seen Dylan all over England at that time. Without missing a beat, Jan asked: "Has she got any tapes?"
Mmm. Are we in sight of land? A hotel near Regents Park, 30 June 1981, around midnight -
We have to talk about Alan
You've got thirty seconds or I'll shoot myself
On the Monday night while trying to get a ticket I met a guy, whom I'll call Alan, who was working for stadium security. A student from outside London, not a Dylan fan but impressed by the friendly fervour around. As we were talking I spotted Mary, and introduced them. She immediately asked him if he knew where Dylan was staying. He said yes but that he was sworn to secrecy. I guessed, after three days' acquaintance with Mary, that that wouldn't last long
I make that forty-five. So you left them for two minutes to buy a programme and when you got back she had Dylan's room number -
Almost. So we all arranged to meet the next night and see if we could get any closer to him than a stage
I can feel the money shot coming on. So on the Tuesday night you got to the hotel and hung around the entrance -
After fifty minutes, it is beginning to feel pointless. Mary goes inside and starts working on the doorman, then reappears suddenly and hisses: "He's coming!" In a moment, Dylan is there with two companions - I recognise one from the backing band. They pause outside the front doors, maybe sensing the car isn't quite ready. They are around three yards away. Dylan in the middle, peering towards the road. Mary pounces. I step forward just behind her, with no idea what I'm doing or want to do. Alan is a little to my left. My mouth is dust, my heart loses a beat. I hear Mary say directly to Dylan: "Is there a room in this hotel I can stay?"
Dylan looks at her. In an instant he takes everything in. Then, not unkindly: "Ooh! I don't sleep with women anymore!"
I am still trying to adjust - to the situation, its suddenness, Bob Dylan standing in front of me, Mary's bravado, the lightning wit and ambiguity of Dylan's reply - when Mary hits a different key. "I've heard you're coming to play in Liverpool in September. Is that true?"
With the faintest shift of stance Dylan seems to relax. I hear a car door behind my right shoulder. One of Dylan's companions says something into the distance that I don't catch.
Dylan smiles. If his first reply took two seconds to arrive, the next takes one. The words accelerate: "Ooh! I don't knooow - but if I do I'll-come-and-see-ya-and-have-a-cup-a-tea!"
I am paralysed. My mind is blank. I have no idea where Alan is. I couldn't have uttered a word to save my life. Then the same guy who had spoken makes a mild gesture with his right hand, almost a film director's "cut!" At that moment someone comes past on the other side. The three move towards the waiting car. It's over.
In another lifetime
I've heard this story a zillion times and it seems to gather more detail every year -
Yes. And there's a lot more. But when you pare it down, it's just a few nights and days, a moment in eternity
Anyway, after it happened -
We jumped on a night bus. Mary was calm. She had a plan. We all arranged to meet again the next night, the last gig before Dylan moved on to Birmingham. I went with Mary to Euston and she jumped on a train. Alan and I met on the Wednesday, but there was no sign of her. We never met again. And I never got the Sunday night tape either. But I don't care nothing for none of that -
Honey, I've told you since the stone age. No one talks Dylan like Dylan - so just leave it to him, OK?
OK, hard as it is
Any regrets? Apart from behaving like a dork transfixed by a lighthouse?
Not really. I don't look back often. But it's good to get it off my mind at last, like the memory-man in The Thirty-Nine Steps. Only one thing. Now when I'll never get another chance I know what I'd say to Dylan. All there is, and with a smile. "Earls Court, London, June '81. Thank you, Mr Bob".