#14N: Millions join Europe-wide day of action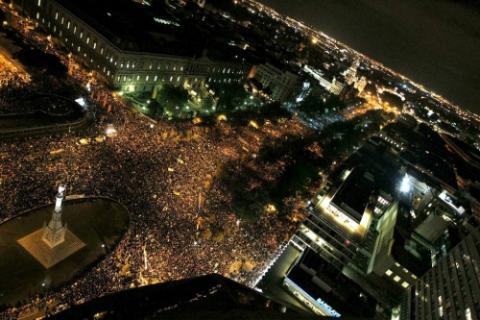 Street battles broke out and large parts of Europe were paralysed yesterday as millions of workers walked off their jobs in the biggest coordinated EU strike ever. By Jerome Roos.
Europe's Mediterranean rim trembled on Wednesday as violent clashes broke out following the largest coordinated multinational strike in Europe ever. In the hope of staving off decades of austerity, precarity and unemployment, European labor unions united for the first time since the start of the European debt crisis to organise strikes and protests in a total of 23 EU member states, with millions of workers walking off their jobs and marching on parliament buildings across the continent. Bloody street battles ensued in Spain, Portugal and Italy.
In Italy, over 300,000 protested in over 100 cities as workers observed a four-hour stoppage in solidarity with Greek, Spanish and Portuguese workers. In Milan and Rome, scenes of street "guerriglia" were witnessed as thousands of students clashed with riot police, bringing traffic to a standstill and leading to dozens of injuries. In Sardinia, industry minister Corrado Passera and Fabrizio Barca, minister of territorial cohesion, had to be evacuated by helicopter after angry protesters besieged a meeting and started burning cars all around them.
In Naples and Brescia, thousands of students occupied railway tracks; in Genoa, the entrance to the ferry port was blocked; in Florence, Venice, Trieste and Palermo, banks were smeared with eggs and banners unfurled from monuments; in Padua clashes broke out between students and police; in Bologna 10,000 students took to the streets and attempted to march straight through a line of riot police; and in Pisa protesters occupied the leaning tower, unfurling a banner that read "Rise Up! We are not paying for your Euro crisis!"
Meanwhile, France witnessed protests and strikes in over 100 cities, and Belgian workers marched on the European Commission as railways and air travel ground to a near-complete halt in a nationwide solidarity strike. Modest action was also seen in Greece — which was completely paralysed during last week's 48-hour strike — where tens of thousands converged upon parliament carrying Spanish, Portuguese and Italian flags to express their solidarity with fellow Southern European workers.
But the most spectacular action was concentrated in the Iberian Peninsula, where violent street battles broke out after both countries were effectively paralyzed by massive general strikes. In Portugal, actions took place in over 30 cities and tens of thousands besieged the parliament building in the evening. Riot police, after being pelted with rocks for hours, violently cracked down on the demonstration, leaving numerous protesters injured. Some locals claimed they had not seen such violence since the days of the dictatorship.
In Spain, over 80% of the workforce participated in the country's second general strike of the year, bringing the country to an effective standstill and putting further pressure on the embattled conservative government of Mariano Rajoy. Hundreds of thousands marched through the streets of Madrid, where barricades of burning trash bins blocked the streets, while in Barcelona protesters set police cars on fire and smeared banks with paint and graffiti. Police responded with brutal force, injuring over 70 and arresting at least 140. A 13-year-old boy in Tarragona was wounded after a police officer struck him in the head with a baton.
And so Southern Europe continues to tremble on its very foundations. As smoke rises from the streets of Madrid, Lisbon, Rome and Athens, one thing is becoming ever more clear: the question is no longer if but when the social explosion will hit. The outrage is building up, and with unemployment rising, austerity deepening, and a generation of Europeans increasingly disillusioned by state intransigence and outraged by police violence, such an outburst of popular rebellion seems ever more inevitable. All it will take is a spark.
Copyleft Roarmag.org.