Remembering Garret Fitzgerald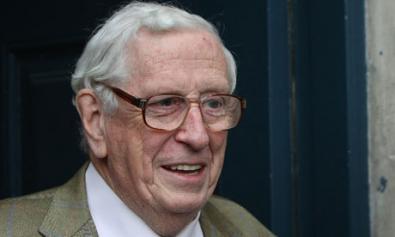 By Paul McElhinney
He had been seriously ill for some time, but his eventual passing came as quite a shock. You somehow felt that the irrepressible force that was Garret would bounce back one more time. The timing of his death, in between the visit to Ireland of Queen Elizabeth and that of President Obama, was apocryphal. The Queen's visit was, in so many ways, the crowning glory of all Garret had striven to achieve in his lifetime in the field of Anglo-Irish relations. The fact that he was not well enough to meet her on her visit was sad in retrospect.
From my time as a student in Trinity in the 1970s, I admired his cerebral and liberal approach to public affairs, so much in contrast to the run of the mill politicians of the era. He was part of a group of liberal-leaning figures within Fine Gael and Labour who sought to change the direction of Irish politics.
His career as Foreign Minister enhanced Ireland's reputation as a new member of the European Community and his own standing as a statesman.
In the 1980s, I had the great honour to serve as an official in his Department when he became Taoiseach, in an era very much defined by his rivalry with Charles Haughey. Much has been written about the fact that his mother was of Northern Protestant stock and his father a Southern Catholic. One of the motivating forces in his political career was the reconciliation of these two traditions in Ireland through peaceful constitutional means.
In the period leading up to the signing of the Anglo-Irish Agreement, a group of Quakers from Northern Ireland had requested a meeting with Garret as Taoiseach. In an effort to describe what he saw as the commonality of interest between Britain and Ireland, he recalled an incident from his youth. His father was then Minister for External Affairs and had been invited with his family to stay at the country home of the great Asquith family in England. Garret remembered sitting up as a young boy in his four poster bed and looking at the array of books on the shelves of his room, most of which he had either already read or at least was familiar with. He was struck then at how many areas of common interest there were between Ireland and England. The son was clearly father to the man, with the anecdote also saying something about the precocious young Garret!
Garret was a sort of liberal father figure to a generation. He sought to transform Ireland into a more liberal, outward looking and tolerant society. His opponents cast him – unfairly - as an ineffective intellectual who wore odd shoes and was out of touch with the hard realities of Irish political life.
On several occasions in the years after 2000, I came across the irrepressible Garret at various seminars and conferences around Dublin. He was in his element at these public fora, sharing ideas and debating with all and sundry. It was this unpretentious and open attitude to new knowledge that most impressed me about him. He had many strings to his bow in his life - academic, journalist, theologian, politician, economist; as well as father, grandfather and great family man.
He was essentially a social democrat in a party still essentially conservative. He had more in common with Conor Cruise O'Brien and Justin Keating than for example, with Liam Cosgrave. Although a liberal, he retained a strong Catholic religious faith and maintained strong links with many clergy with whom he liked to debate theological issues. He made me proud to be Irish.
On the afternoon of his funeral, I drove up to Dublin from Wexford to attend. There I met a few former colleagues and sat in front of one of the big TV screens outside the church in Donnybrook watching proceedings. All the great and the good filed through in respect. One group struck my eye immediately. It was that old Anglo-Irish triumvirate of Noel Dorr, Sean Donlon and Lord Robert Armstrong, all key surviving participants in the Anglo-Irish Agreement. In the ceremony, chief celebrant and long-time friend of Garret's, Fr. Enda McDonagh, led the tributes in a touching way. It was truly sad to see him go – a symbol of a bygone era and a totally dedicated public servant, Irishman and European.