Smock Alley hosts Jumping The Sharks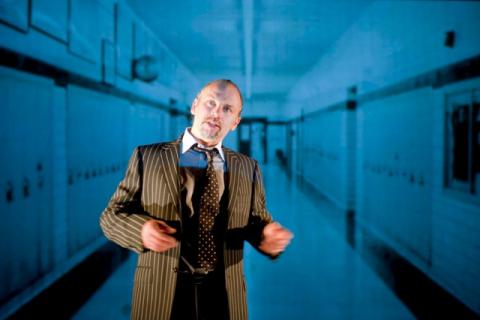 Don Wycherley owns the stage in the latest Blood in the Alley production. By Shane Creevy.
Jumping The Sharks is a new play, written by the Stewart Parker-nominated Micheál Lovett and directed by Blood in the Alley's Geoff Gould, running in the Smock Alley Theatre, Dublin.
The protagonist, Nick Cross, speaks to the audience from beyond the grave as he tries to wrestle the demons that haunt him - his memories of life, his wife and his daughters.
The play is cleverly constructed around stories as Nick tries to reveal the inner truth within all plots - or rather expose the lie inherent in all plots. If he can convince the audience of his claims, he will move on and be at peace - or at least, that is the implication.
Don Wycherley, he of Bachelor's Walk fame, owns the stage in this one man production. His New York drawl can be snarling and yet comforting at the same time, with the gravitas and resignation of someone battling immortal demons.
Nick Cross had been a CEO, a tough guy who used cocaine and prostitutes and one of the most powerful men in New York.
His constant reminders that we should hate him only serve to dangerously deepen our affection for this nasty character. Of course, this is largely because of Wycherley's spellbinding performance.
I spoke to Assistant Director Shane Ward who said, "It's hugely exciting working on a piece that's never been performed before and also quite daunting. But Geoff [Gould, the director] was always very clear that a good production would always be based upon trusting the writing and giving full license to the actor's exploration of the text. I think that that's been a success. The production channels the focus on an incredible performance and the audience is free to soak up the wonderful detail of Lovett's writing."
There are Beckettian overtones: like Krapp, Nick constantly rewinds his past, reflecting upon the unhappy coincidences that life threw his way. The audience is under no illusion that he has played this game many times before. Just as Vladimir and Estragon wasted their time waiting for Godot, Nick is spiraling in circles waiting for an intervention that just may never come.
The production feels fresh and original but I don't want to ruin any twists and turns so check it out for yourself!
Jumping The Sharks runs in Smock Alley Theatre, Dublin from 26th October to 13th November. More images here
Below: YouTube clip for Jumping The Sharks
Tickets: https://www.ctb.ie/tickets/ctb/
Tel 0818 205 205
€18 full,  €15 Concessions